FootballTeam. How to start?
06-10-2021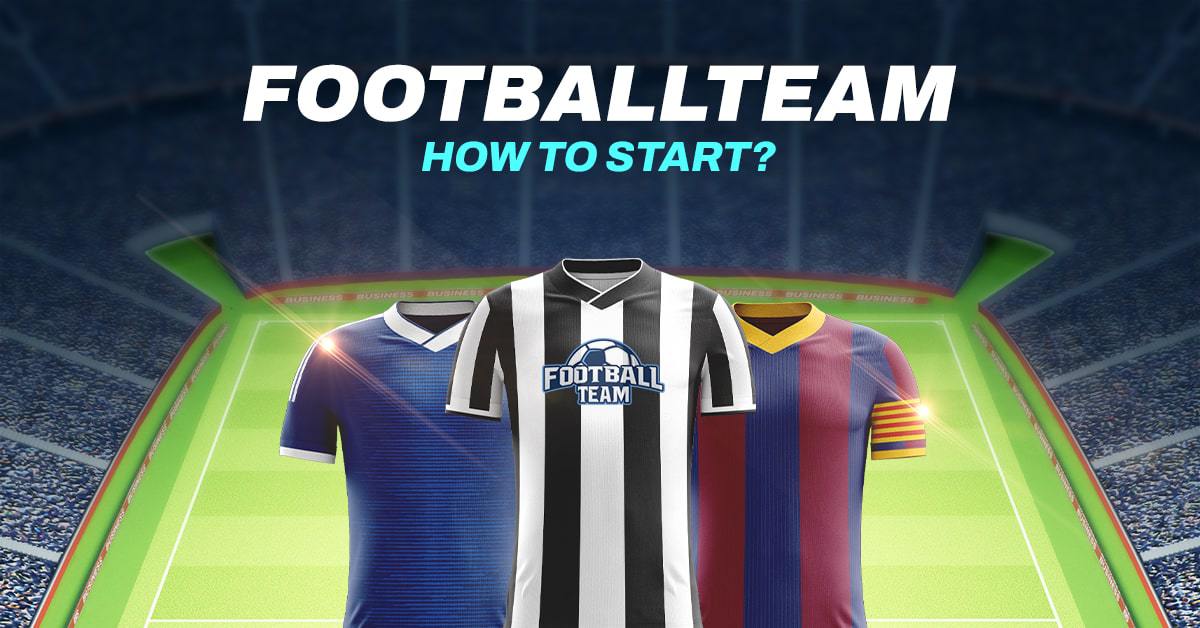 Many people ask themselves this question. What is FootballTeam? Why do people play this? Why different nations go crazy about a browser game? Today we answer these questions.

What is FootballTeam?
Football Team is a unique football web browser game, created by authentic football fans. It is the only browser game that allows you to create a football player and manage a whole team consisting of real players only! The task is seemingly simple - you take on the role of a footballer and start training and developing your skills.
What's more, you can create your club or join existing ones. The game is full of various competitions, allowing players to win numerous rewards. Thanks to the unique technology, the match engine reproduces the real-life situations from the football pitch and considers random scenarios that may happen to players. The game is constantly being improved, with new updates posing new challenges to players.

Why Should You Play FootballTeam?
Besides the fact that you can fulfill childhood dreams and become a footballer, FootballTeam offers many other possibilities. Let's check what awaits you in this browser football game.
Make New Friends or Invite your Mates
What distinguishes FootballTeam from the rest of football managers is a real community. This means every team in the game is represented by authentic players, just like you. That lets you make friends with people who share your passions!
Scoring a worldie thanks to a brilliant pass from your best friend. Great feeling, isn't it? You can experience this again in the virtual world of FootballTeam! Invite your friends and create an attacking formation that every defense line would have to respect! 
Maybe it's the competition that gets you excited? That's also possible! Choose different teams and make others watch your rivalry with mouths wide open as you become Ronaldo and Messi of the FootballTeam world!

The Game Lets You Play Anywhere
In FootballTeam, you can manage your career from your phone, laptop, or tablet, no matter where you are!

Are you having a long and boring train journey? Maybe you are waiting for the bus that's always late? Is the lecture so dull that you're struggling not to fall asleep? Make the time go faster with FootballTeam!  This browser game works perfectly on both computer and mobile devices, allowing you to play wherever you are.

Emotions Guaranteed
In FootballTeam, games guarantee unpredictability and endless emotions. Even if the opponent has a better team, he's not awarded with victory instantly. With better tactics and commitment, your team still stands chances to win! Contrary to FIFA or eFootball, in FootballTeam the squad isn't the only factor deciding about winners and losers. Of course, the higher skills your player has, the bigger chances of success, but nothing is certain before the final whistle.
Things to Do in FootballTeam
FootballTeam is not only about playing matches. There are many modules waiting for you in the game, and the ones described below are just a few of them. We can certainly guarantee one thing - you will never be bored!
Player Development
In FootballTeam, you can lead your player's way to the top of the footballing world. With proper decisions concerning your career path, you can fire your name into the global spotlight. 
The extensive game panel lets you develop your player's skills. Start by choosing your name and position on the pitch. Later, you should focus on flowering your player's talent. With adequate training methods, you improve his offensive or defensive skills, efficiency, playmaking, or pressing - everything is up to you.

Join a Club


In FootballTeam you can become part of the footballing community by joining a team. Just like in real life, the strength of the club depends on your skills and commitment.
Joining a club will allow you to compete in club leagues and cups, but that's not everything. Football is obviously a team sport, but you can also reach for individual prizes, and the rest of the team will help you with that. At FootballTeam, you may become the king of assists, goals, interventions, or clean sheets.
FootballTeam clubs are teeming with life! The club owners often set up channels on Discord or groups on Messenger, so that the team can freely build relationships and atmosphere before the next struggles in the game. You will develop together, support each other and create a team on and off the pitch.

Managing the club and its infrastructure
Have you ever thought about running your own club? If you decide to take this responsible step, keep in mind the responsibilities of the club owner.
What are the duties of a club owner?
- To play in the league, you need to gather at least 13 players,
- You'll manage the recruitment of players and their contracts,
- You choose the line-up, tactics, and players,
- You are responsible for expanding the stadium,
- You set the hours of club training,
- You sign teams up for friendly matches.
In addition, it's beneficial if you know how to win over other players and you have game experience!

Collecting Items
In addition to basic skills, we can put on items that will give our player skill bonuses. Items can be found in packs and bought on the Market for Credits.
Items are divided into so-called tiers:
- Plain (Grey)
- Upgraded (Blue)
- Rare (green)
- Epic (Red)
- Legendary (golden)
- Platinum (purple)
- Diamond
- Historical

Items can be completed in a set. Sets consist of items (jersey, shorts, socks, boots) of the same color and club or country. Completing such a set will give you a bonus in the form of increased skills, so it is worth focusing on.

Try your Luck as a Bookie
FootballTeam isn't only about playing games and training. There's also space for some fun and relaxation.
As we mentioned before, the favorites in FootballTeam don't always win. That is why the module that allows you to predict the results of matches gives players tons of excitement. Are you feeling lucky today? You can always verify that in the Betting Room!
Becoming one of the best in the business may place you in the ranking called "TOP3 of the Week", which guarantees great in-game rewards!

Become a Trick Champion 

How does Joga Bonito relate to FootballTeam? With us, you will experience the best football tricks! "Tricks" is an interesting module where you will learn Crossover, Heel Pop, Rabona, Roulette, Elastico, or Hocus Pocus, among others. 
As you move up the levels, you will earn rewards. The module is closely related to Trick Duels, where you'll be able to compete against other players and of course earn even more valuable rewards. Become a Trick Dueling Champion at FootballTeam!

How to Start Playing?
To try FootballTeam out, you don't have to download anything. Just go to the main page, register, and log in. Regardless if you prefer to play on a desktop or mobile device, having a browser is enough! What's more, you can log in via Facebook.
Tutorial
At the start, you receive €100,000 and 400 Energy points, which you can freely distribute. Following the registration, you can choose your player's appearance (over 130 possibilities) and then the position on the pitch. You may choose between attack, midfield, defense, or goalkeeping. The choice of position is important because later you'll be adjusting the training methods to it.

During the successive stages of the Tutorial, you will participate in your first training sessions, open packs, or put on items in the locker room. For completing all of the Tutorial's tasks, you will receive rewards in the form of: 
| | |
| --- | --- |
| |   85,000 Euro |
| |   350 Energy |
| |   50 Golden Balls |
| |   5 Free keys |
| |   9 Bronze Packs |
| |   1 Skin Pack |
Training - Basics
At FootballTeam, we distinguish three types of training:
- Basic (training single units, at the beginning it lasts 5 seconds, with time it gets longer as your skills grow);
- Training Centre (up to 500 training units with one click);
- Club Training (mutual team training that lasts for one hour. The hour is fixed and chosen by the management of the club);
There are eight skills to choose from:
| | |
| --- | --- |
| |   Offensive Play |
| |   Defensive Play |
| |   Playmaking |
| |   Stamina |
| |   Anticipation |
| |   Pressing |
| |   Set Pieces |
| |   Efficiency |
Choosing each of them consumes Energy and Euro. The better we become, the more resources and time our Basic Training takes.
Remember that your position is related to what you should train. The defender will gain little by practicing the Defensive Play, just as the forward won't benefit much from the Defensive Play. However, skills affect our character's OVR (overall), so skipping them completely is also not recommended.
And that's it for today. Thanks for your time and see you on the pitches of FootballTeam!
Leave comment
Users must be logged in to comment.