The FT Sport Journal #44
11-01-2023
Your weekly source of information and entertainment, Sports Journal #44 brought to you by our journalists, is here! Remember to vote for your favourite article at the end! ☕
Starting next week, you'll see less repetitive articles and a bigger variety of content! 📰
TABLE OF CONTENTS
1/ WHO'S WORSE, AGUSTIN MARCHESIN OR SALVATORE?
2/ UPDATES IN FT. COMMUNICATION WITH PLAYERS
4/ A WORLD OF EXCHANGE IN FTG: FROM BLAUGRANA TO GALACTICOS IN THE BLINK OF AN EYE
7/ 10 SEASONS SUMMARIZE - PART THREE
9/ EUROPE: THE FOOTBALLING POWERHOUSE
10/ CRYSTALS IN CARD COLLECTIONS
12/ WHERE ARE THE BEST US TEAMS?
13/ THE LUCKIEST KICK: THE EXTAZZZ CHRONICLES
14/ DO CLUBS IN THE UNITED STATES JOIN THE BEST?
WHO'S WORSE, AGUSTIN MARCHESIN OR SALVATORE?
Before we dive into this article, let's recall the case of Agustin Marchesin, a prominent player on the server and a controversial signing for C N Marcilio Dias. He was involved in an exchange of messages in which he expressed derogatory comments towards another player, Dario. Marchesin addressed his teammate in an insensitive and offensive manner, using inappropriate language and wishing him the worst of luck.
These statements have generated widespread rejection in the FTG community. While the game is competitive, it's based on fun and respect among players. This incident is a reminder of the importance of maintaining sportsmanship and respectful behavior in the virtual world, just like in any other context.
It's worth noting the impact this sports report had in the comments section, where players of the caliber of Felipe 99, Vizmark, Con Ty, and Juan Ignacio Dinneno gave their opinions. In this article, I'll respond to Felipe 99's question: this account is not a secondary one; it's an independent player. It's also essential to highlight Con Ty's opinion, who argues that the article didn't make sense, and according to Vizmark, it did. But I won't be the one to decide this; it's up to the readers. WHAT DO THE READERS THINK?
This incident should serve as a call for reflection for all FTG players. Competition is part of the game, but it shouldn't cross the line of respect and sportsmanship. Each of us has a responsibility to maintain a positive gaming environment and to treat others with courtesy and consideration.
Now, moving on to today's article topic, a WhatsApp conversation between two prominent FTG players has revealed an unusual tension in the gaming community. Salvatore, a member of the C N Marcilio Dias team, and Dario, were involved in a dispute that has caused a stir in gaming circles.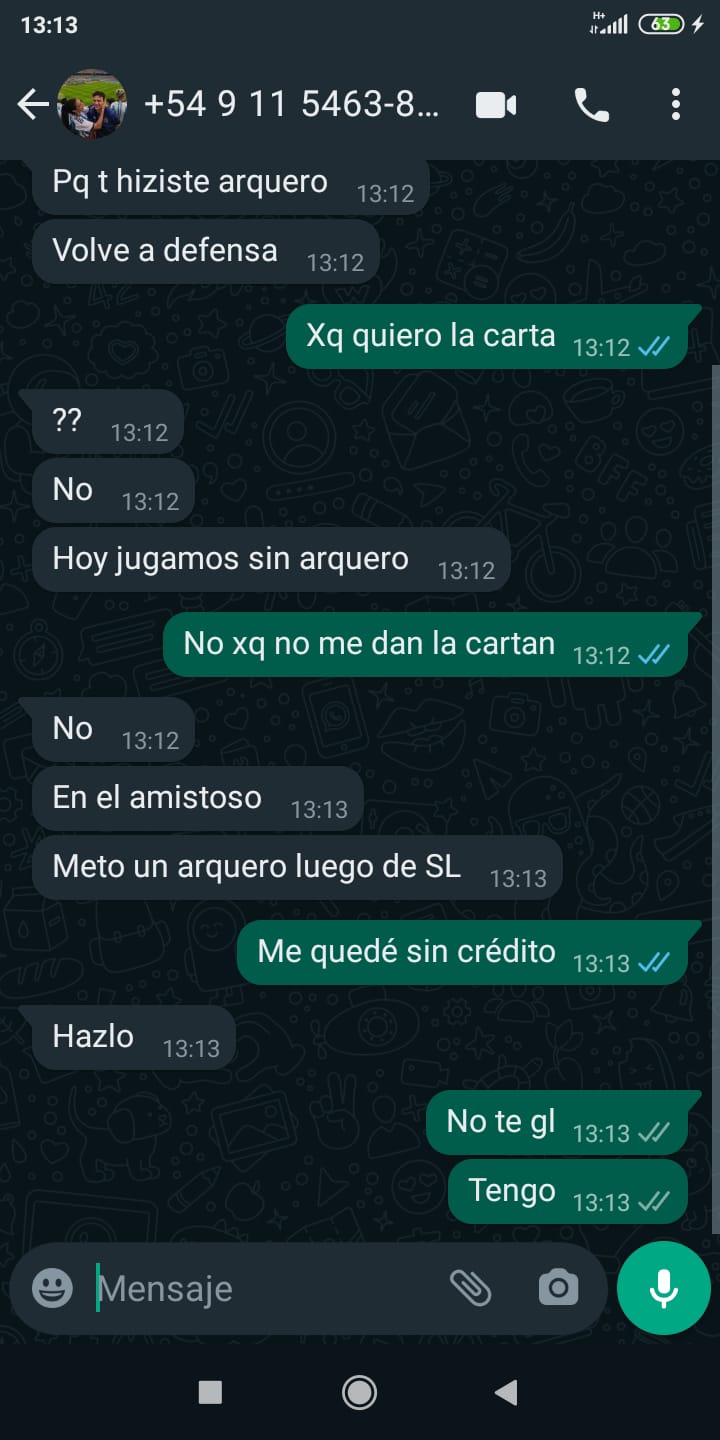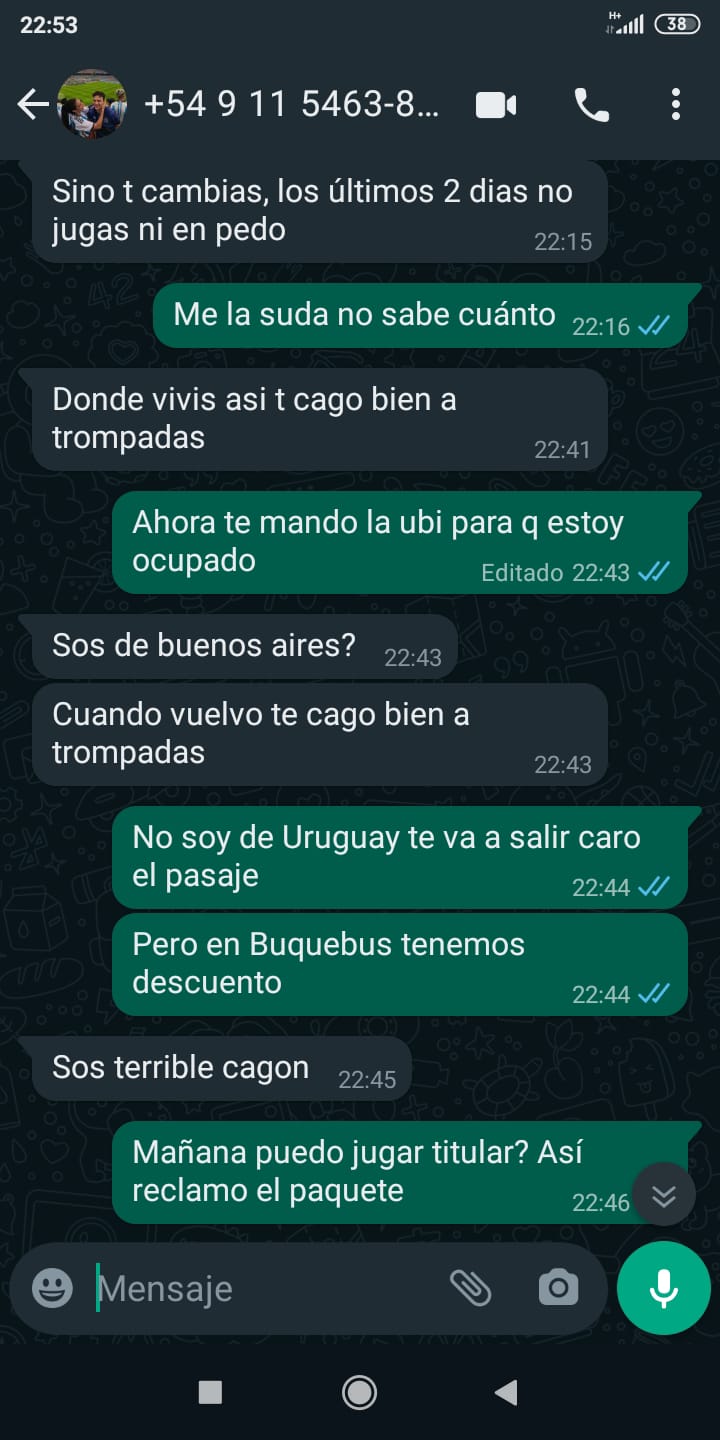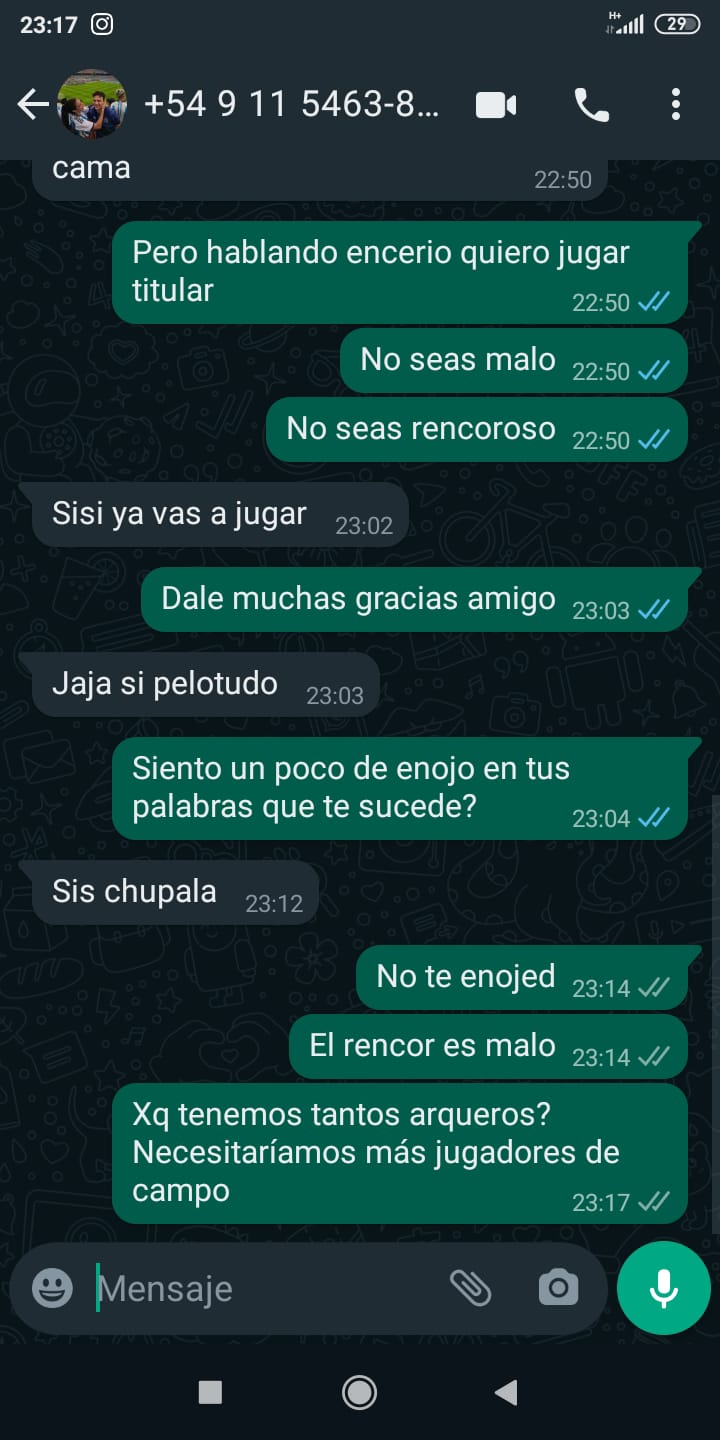 The conversation begins with Salvatore asking Dario about his recent change in position to the goalkeeper position. Dario explains that he made this decision to activate his "playing style" during a friendly match. The "playing style" is a game mechanic that rewards a pack of cards for its activation during the match.
However, the conversation takes an unexpected turn when Dario mentions that, if they don't play the match, he will lose the card pack. Salvatore, apparently frustrated by this situation, responds by saying he will find a goalkeeper for the friendly match, preventing Dario from losing his reward. In what appears to be an indifferent response, Dario mentions that he doesn't have enough credits to buy another card pack.
Here is where the conversation becomes unsettling. Salvatore threatens Dario, asking him where he lives, implying that he might look for him and take physical revenge. Dario's response is no less surprising, as he sends his location in Uruguay, to which Salvatore responds by mentioning the cost of a ticket to travel to Uruguay.
The conversation continues with Salvatore implying that Dario won't play in the upcoming matches. This exchange of messages has caused concern in the FTG community, as it shows inappropriate and aggressive behavior between two players who were previously known for their skill in the game.
While rivalries and tensions are common in the competitive world of FTG, this incident has taken things to a level that no one expected. The FTG administration has not yet commented on the matter, but many expect them to take action to address this situation and prevent future conflicts among players. The discussion here is not about whether it's right or wrong; such attitudes should be condemned. But I ask you, the reader, who is worse, Salvatore or Agustin Marchesin?

Author: Vizmark
UPDATES IN FT. COMMUNICATION WITH PLAYERS
Last week, the monster event began and with it came an update in the game. So I spoke to the players and found out what they thought about this update.
The players were asked the following questions: 
What are your first thoughts and emotions after the release of the update?

Which part of the list of updates did you like the most and why?

Do you like the way the FT game develops?
Interest. Each new module brings the game to life, but I still have mixed feelings.

A new way of creating drinks - increasing bonuses, adding new drinks and new requirements that involve items that were often unnecessary in inventories.

Yes and no. Changes are always good because they develop the game, but I think that players who have no intention of depositing real money will be left behind and as a result, some players will leave the game (I hope I'm wrong!).
Good morning everyone, I would like to express my gratitude for having the opportunity to share my opinions here in the newspaper. My first honest impression about the recent update is that it seems to be another update aimed at paid benefits, leaving players who prefer to play for free a little aside. Furthermore, it seems that the game is moving away from its original essence, which is to be a football simulator. However, I also noticed some positive aspects, such as the addition of Card Slots, which I found quite interesting.
I'd like to see more balance between the focus on profit and the free-to-play player experience so that the game continues to be a faithful representation of the sport we love.
From my perspective, the most notable part of the update was the cards. I note that there has been a significant improvement in the organization and complexity of this system, which rewards dedicated players with a considerable advantage. This approach clearly favors active players, since the game allows the acquisition of up to three packs of cards per day, at the beginning of a season this gives many collections. This change will have a substantial impact, especially given the updates to Slots. An increase of 100 / 200 or even more in attributes could, in fact, be the deciding factor in future championships.

Honestly, I'm not going to hide the fact that I'm critical of the direction the game is taking. In my view, the current approach seems excessively focused on financial gains, leaving players' well-being in the background. I consider that a more careful balance should be maintained in the game's development to prevent it from becoming excessively expensive for players.
To illustrate this concern, the most recent update is a clear example. Rewards have undergone a drastic reduction in the amount of energy packs awarded. Previously, players could get generous amounts such as 200 energy packs in some rewards, while now they only receive 20. This change is particularly significant for players who are unwilling or unable to invest much in the game.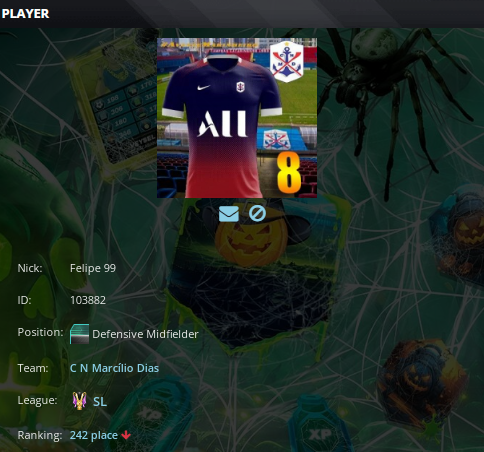 The first thoughts were positive, because I have been waiting for new bottles for training for a very long time. In addition, there was a lot of information about them in Discord.

As I said earlier, I liked the bottles for doing training the most, because they give you the opportunity to develop your character faster, therefore, to become stronger than your competitors in the league faster.

It's a tough question, so I'll answer yes rather than no. If you look at it superficially, the game is developing well as a project. And, if you start to look into it more thoroughly, it is difficult to answer. After all, there are various changes in the game that only harm players who play without investing money in the game and more of their own time.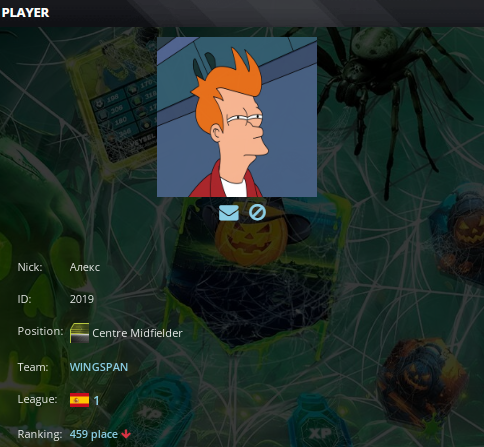 I want to say that my opinion coincides with the opinion of the players. And the balance after the upgrade was shifted towards monetary gain. Which will have a negative impact on most players. 
I hope the administrators of the game read this magazine and listen to the opinion of the players.
Thank you to all the players who participated in the survey.
Author: Zidane
FOOTBALLTEAM NEWS
Dear readers,
Greetings and welcome to Sports Journal! I'm thrilled to share with you the latest highlights in the world of FootballTeam, including some fascinating matches, large transfer, and noteworthy outcomes. I'm dedicated to keeping you informed and up-to-date, so keep reading for all the information you need!


1. Friday shootout in Super League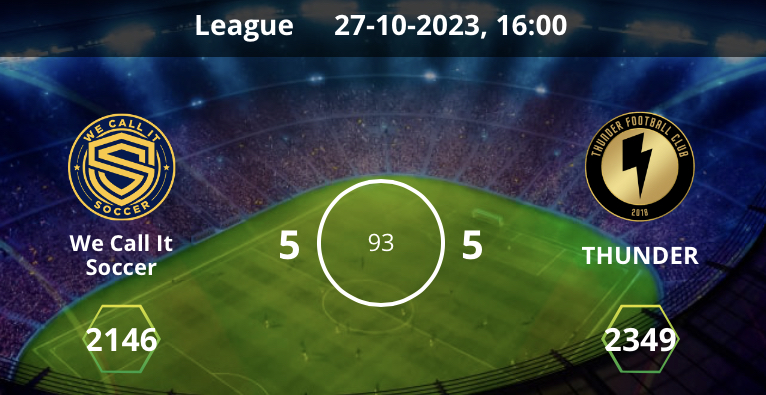 The Super League match last Friday was an extraordinary spectacle where both teams demonstrated a high level of activity and commitment. We Call It Soccer played defensively with a 3-1-5-1 formation, while THUNDER took a more aggressive approach with a 3-5-1-1 tactic. The pre-match atmosphere was palpable, and it was crystal clear that this was a match worth following. Additionally, THUNDER team took full advantage of a Hero Voice boost for one of their players who won Top Training Week, adding to the excitement of the game.
At the start of the game, the We Call It Soccer team struggled as THUNDER took an early lead, scoring 3 goals in just 21 minutes. While a score of 2:0 is generally considered unsafe, in this case, even a score of 3:0 was unsafe. However, the WCIS team was quick to regain their footing and made a strong comeback in the 28th minute with the help of their top striker, Łysy Pereira.
The first half saw no more goals. However, Łysy Pereira scored the second goal for his team in the 58th minute, and the visiting team couldn't let go this match. C Lee scored another goal, bringing the score to 2-4. The pressure increased in the match, leading to more fouls on the pitch. Bielson red card was a clear indication of this. Łysy Pereira then scored a penalty kick, bringing the score to 3-4.
THUNDER was forced to quickly switch to a defensive strategy after losing a player, however, their efforts proved futile, as We Call It Soccer managed to score two more goals by Łysy Pereira in the 75st and 81st minute, bringing the score to 5-4. Despite the intense pressure, ErforT AM managed to score the last goal, ending the game in a 5-5 tie. It was a real shootout that kept everyone on the edge of their seats.
2. XXX unexpected departure from Stiff Boys




Friday was definitely a thrilling day for the players, with many exciting matches and plenty of goals scored. However, it also marked an interesting transfer in the world of FootballTeam. One of the top midfielders, XXX, surprisingly left the Stiff Boys team and joined the RedBull Fighters. This move left a void in the Stiff Boys lineup, which was filled by Pssychoza, a former player of Łosie w Kosmosie.


3. Cup battle between The Kings and Bella Ciao - or the premature Italian Domestic Cup final


Football players don't just live for league matches. Winning the Domestic Cup is a matter of prestige and every first division player aims to lift the coveted trophy at least once in their career. 
The Kings and Bella Ciao are the indisputable best teams in the Italian league. So, when they faced each other in the Domestic Cup, it was nothing less than a premature final. The two-match series they played was unquestionably one of the toughest challenges they have ever encountered.

It's important to note that both teams were fully committed, but let's focus on the facts. The atmosphere before the two-match game was intense. Bella Ciao team won the first away game with a score of 2:0, but the statistics showed a very close match. However, The Kings team proved their resilience and came back stronger in the second match with an impressive 4:0 win. What's more, The Kings team dominated the game with 10 shots on the opponent's goal, while the Bella Ciao team failed to take a single shot. With this resounding victory, The Kingsmove on.


4. Saturday's top matches 7more7 vs Go Complain and Polish DF vs WINGSPAN

The matches at the top are immensely popular among the FootballTeam community. They are absolutely worth following, particularly if the teams showcase players who have the potential to make it to the Super League.







On Saturday evening, 7more7 and Go Complain played a long-awaited match in the first league. Both teams had been undefeated up to that point. However, 7more7 emerged victorious, winning 4-1 and leaving no doubt in anyone's mind that they deserved the win.


At the same hour, there was a blockbuster clash in the Spanish league between Polish DF and WINGSPAN. The former started the match as a favourite and emerged victorious. Despite a lot of commitment on both sides, the team led by Pecelowsky13 won the match 4-1. It is worth noting that the match itself was statistically very even, but it was the Polish DF team that presented a better offensive performance.


5. How are the US server teams performing?

It's a question that many of you may have already considered - how are the teams from the US server performing after the server merger? I've been looking through the rankings of teams and players, but the information is not so good. Do you have any insights on this matter?

It is unfortunate to say that things are not going well for the two clubs that joined the Super League. They have been performing poorly, and it is a cause of concern. Meanwhile, the teams that have been in the first league for many seasons are still dominating the league tables, and it looks like there is no sign of any change.

Was the server merger good for player engagement with the US server?


6. Current top 5 of the server

As of 28.10.2023, the current top5 is as follows:

1. Stiff Boys 2278 ovr
2. We Call It Soccer 1962 ovr
3. THUNDER 1932 ovr
4. Public Enemies 1708 ovr
5. The Kings 1334 ovr

As for the players:

1. Patrickkk 3388 ovr
2. Reginald 2986 ovr
3. C Lee 2974 ovr
4. Łysy Pereira 2866 ovr
5. Speezi 2716 ovr


That would be sufficient for the previous week's news. Thank you for your attention and have a great week ahead! Best regards, and I'll see you next week.

Author: Andrew Norbertson
A WORLD OF EXCHANGE IN FTG: FROM BLAUGRANA TO GALACTICOS IN THE BLINK OF AN EYE
Attention, video game enthusiasts! Today, we're going to talk about a universal truth: games must listen to their players to survive and thrive! But we won't just give you serious advice; we'll do it with a touch of humor and joy.
Imagine this: you're playing your favorite game, and suddenly, boom! The game gets an update. But instead of getting excited, you start trembling with fear. Why? Because we all know what that means: changes, changes, and more changes! Sometimes, those changes are like giving your character a "Death" or ghostly look (which, to personal taste, the designers nailed; the looks turned out marvelous).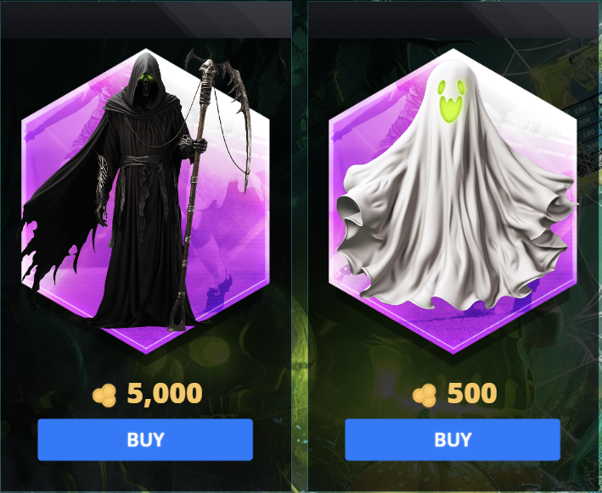 And who makes the decisions behind these updates? The developers, of course. But here comes the twist: players also have something to say, and often, they have a ton to say! And if developers listen. 
A brilliant example of this is the game "Stardew Valley." This game, created by a single person, let players influence the updates. So if the community liked the idea of raising magical unicorns (who wouldn't?), magical unicorns would appear in the game. The result? A game that's not only a success but remains alive and exciting.
So, what's the moral of this story? Listening to players is not only wise but can also make a game become a legend. So, developers, listen to your players, and players, keep sharing your crazy and wonderful ideas! Together, we can keep that spirit of fun alive in the world of video games.
Football Fanatics, Get Ready for the Most Exciting Game Changer Since Goalkeepers Became Forwards (Latam United) in FTG! We're here to talk about a brilliant idea that could revolutionize the world of virtual football: the garment swap feature!
We know that in FTG, outfits are an essential part of fashion and strategy. Often, players come across outfits that don't match their style, like if Cristiano Ronaldo showed up on the pitch wearing a Barcelona jersey. What do you do in that case? Swap it, of course!
The Great Hunter, an expert in fashion and football, has proposed an exciting idea: a swap function that allows players to trade their unwanted garments for ones they love. Can you imagine how cool it would be to get rid of that Blaugrana shirt to get one of your beloved Galacticos? It's like being in a virtual clothing store where you don't have to pay in cash but with that unwanted item, and of course, a small credit commission for using this tool, Uncle Sam has to eat from somewhere, folks.
Of course, there are rules. We don't want everyone out there swapping jerseys left and right. So, Hunter suggests a minimum OVR requirement to use this function: 200 OVR for epic garments, 300 for legendary ones, 600 for platinum, 900 for diamond, 1500 for MID historic ones, and 2000 for TOP historic ones.
But the fun doesn't end there. I want to hear more ideas. What other exciting features could be added to FTG? Leave your suggestions in the comments!
So, football fanatics, how do you feel about this thrilling idea? Are you ready to swap those unwanted garments? Imagine all the things you could do with a new jersey and a pinch of style in FTG! For the song of the week and with our buddy Fuerza Regida's new album, "CJNG" stands out, enjoy it, warriors, until next time. 
Postscript: Dear FTG Administration, I don't want to be pushy, but since we're talking about game improvements, have you ever considered the possibility of adding a few euros for work? Imagine how motivated we'd all be if we could earn some extra euros for ball collecting or being a commentator. Of course, we'd be in FTG longer than Messi at Camp Nou! But seriously, there's no harm in dreaming of bigger rewards for our hard work! 😉

Author: The MysTerioN
LET'S TALK ABOUT TACTICS!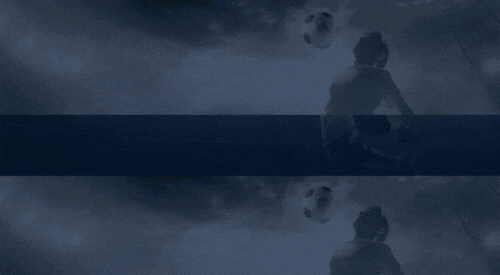 In today's edition, we're here to offer advice to those players who may want to assemble a team, become team creators/managers/owners, but hesitate due to a lack of essential information. If this describes your situation, read this article, and I hope it proves helpful!

TOOLS FOR NOOBS
Perhaps the title of this section doesn't sound particularly appealing since no one enjoys being labeled a beginner. Please understand that we're using the term to make the section engaging – it's not personal. In my eyes, you're a champion who just hasn't begun their journey to stardom yet. So, what might you be missing? It could be motivation, a lack of information, or maybe you've already started but feel a bit lost. In this edition, I'll strive to address any doubts that may arise on your path to stardom.
First and Foremost
To begin, it's crucial to gather a group of friends who share your aspirations. If there's an opportunity to form a team, don't hesitate to offer yourself as a guide. In the realm of online gaming, social skills are just as vital as knowing how to craft a game plan.
Remember that, even if your friends join you, the key is having the right players in the right positions on the field. A recent update introduced an important table, which I'll explain briefly after sharing the note:
POSITION MATTERS
Each player occupies a specific position on the field, chosen by you. These positions include goalkeeper, defender, defensive midfielder, midfielder, offensive midfielder, and forward.
Playing in a position different from the one designated will lead to reduced effectiveness during the match. Below, we provide a breakdown of the strength percentages that players perform with in each position.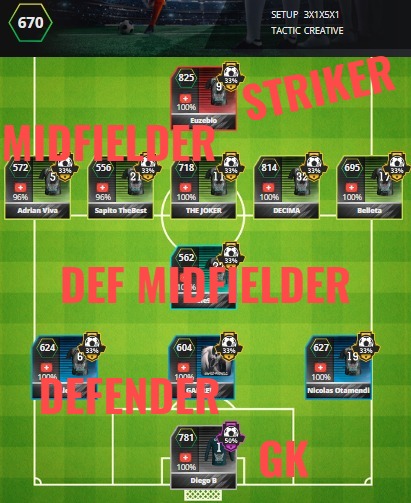 While this table is valuable, it's of little use if you don't understand each position on the field. I'll give you a quick example of what each position details so that you can grasp their tactical roles. It's crucial to understand that if you place a player in a position that doesn't match their designated role, their OVR will decrease. So, even if you have ten friends who are all strikers and want to create a team, you'll likely lose most of your games.
So, let's discuss the positions you need to cover to form a well-rounded team with effective tactics!
What Players Do We Need?
To start, you need 2 goalkeepers: a starter and a substitute. You also require at least 6 defenders on your team and a minimum of 1 defensive midfielder (although having 2 is advisable). You'll need 2 forwards, but you can have 3 if necessary (although 2 is ideal since the best tactics use 1 forward). The rest of the team, up to 20 field players, should consist of central midfielders, as they're the most frequently used.
In summary, my list would look like this:
2 GK
6DF
2 Def M
8 MC
2 CF
Understanding How Penalties Work
If you position a forward as an offensive midfielder, they'll receive a 20% reduction in their OVR points. For instance, if they have a 100 OVR but play in a different position, their effective OVR will be 80. If you place them in the central midfielder position, there will be a 60% reduction in their OVR points. This is significant! To illustrate, if you use a 100 OVR forward as a midfielder for the simulator, the game engine will only consider them as having 40 OVR points.
Refer to the table for clarification, and if you have any questions, feel free to contact me either here or via a private message. I'm here to help you understand better!
Training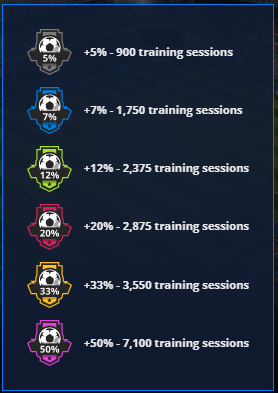 For a team aiming to be competitive, a commitment to training is essential. Training not only enhances your players in the long run but also provides a daily bonus, improving their performance and strength in upcoming matches. In the following table, you can see how the training system operates. When you have an important match, you can request that your players train at a specific percentage (e.g., 33% for crucial matches, 50% for very important matches). However, it's important to understand that neglecting training entirely will make it difficult to remain competitive.
We ran out of space in this edition, next week we will continue with more tips, see you!
DODO BLOG
Good afternoon, dear readers of the magazine. Welcome to the new issue of the magazine. Sit back and enjoy reading interesting articles in this issue of the magazine. Welcome to the Dodo blog where we are discussing the news of the past week.
On Thursday, October 26, the developers released a global update, which added a lot of new things. In this article we will tell you about some innovations. Who have added to our game.
The update was massive and affected a lot in our game. The main thing is to create drinks and change some rewards in tasks, and also made an update to the maps section. We will talk about this and many other things now. Sit back and enjoy reading to you.
Let's start with updating the creation of drinks where there were changes in the conditions for creating drinks. Now, to create high-level drinks, you need drinks of the same drink lower in level. For example, to create a thrift drink of the fifth level, boosters are needed, those that were before and a thrift drink of the fourth level and an epical item were added to them.
O drinks have also been added, which increase the amount of training for a certain time with the help of an assistant. They have different levels, and the cost of creation is also different. To create a level six experience drink, you will need a golden item, and the approximate cost of creation is one and a half thousand credits. It seems to me that this is a very good price for twelve hours of training 200% more expensive, but I am more than sure that this price is due to the hype, and in a few weeks the price for creating these drinks will decrease, and it will be cheaper to do it.
In my humble opinion, these drinks are a very interesting innovation that will bring new colors to the pumping of the character, and you can pump with a 200% increase in training at any time and not wait for the event and when the administration will fork out for a good percentage of pumping.
Now we turn to updating with maps, namely updating the interface and now you need to switch to another window to exchange a collection of cards or sell a card, and not as it used to be all together. For me, when everything was together, it was more convenient than now, but if the developers decided that it would be better this way, then we will all get used to it over time. The most interesting thing that was added to the maps section is layers and bonuses. Now when you are going to a certain number of different collections of cards, you open a slot and you can put any card that you have there. Interestingly, they came up with nothing I can say bad about this. You can safely open two slots for a couple of seasons without donating, and that's about two hundred total levels for your character for a minute without pumping the cards themselves. Not a bad boost for your account, is it?
And at the end of the meeting, we will talk with you about the changes in the rewards in the tasks. Drinks were added there and that's good news, and at high levels there are very good drinks there. But they have reduced the number of energy packs in the rewards, and now the extraction of these energy packs is becoming more complicated, but still some tasks remain the same and you can collect packs. In my opinion, this is also a good update that will bring novelty to our game.
This concludes our article, as always, with wishes of good luck to every player and club this season, successful games and good pumping to everyone. I also wish the developers more smart thoughts in your head so that they improve our game as much as possible. 
Thank you all for reading this article, I hope you enjoyed it. Have a good day to you dear readers of the magazine.

Author: Dodo
10 SEASONS SUMMARIZE - PART THREE
Hello everyone, readers. This week marks the penultimate part of tallying the teams' scores from the first season. We've completed 5 seasons, and there are 5 more to go, so we're halfway through. Just a reminder of the scoring method:
SuperLeague Winners:
1st - 2 points
2nd - 1 point
3rd - 0.5 points
Champions and European Tournament Winners: 1 point
Domestic Cup Winners: 1 point
League 1 Winners: 1 point
Using this scoring method, each team had relatively equal chances to earn points for trophies because a team from SL can earn 2+1, and teams from outside SL can earn 1+1+1.
Here is our top 10 list of the most successful clubs at the halfway point:
LaFamilia - 8 points
Stiff Boys - 7.5 points
BAVOVNA - 7 points
Obstawiamy - 5.5 points - The club no longer exists.
Hakuna Matata - 4.5 points
RedBull Fighters - 4 points
KS TRZYNACHA - 3 points
Polish DF - 3 points
Romper FC  - 2 points
THUNDER - 2 points
Without further ado, let's see how Season 6 unfolded:
Superleague Winners:
1st - LaFamilia - 2 points
2nd - Stiff Boys - 1 point
3rd - Obstawiamy - 0.5 points
Champions Tournament - Stiff Boys - 1 point
European Tournament - Hakuna Matata - 1 point
Domestic Cup Winners:
England - RedBull Fighters - 1 point
Spain - BAVOVNA - 1 point
Germany - Check Engine - 1 point
Italy - Łosie w Kosmosie - 1 point
League 1 winners:
England - Go Complain - 1 point
Spain - BAVOVNA - 1 point
Germany - Check Engine - 1 point
Italy - Łosie w Kosmosie - 1 point
Considering last week and Season 5, we see Łosie w Kosmosie making a strong entry into the top 10. Let's check the following seasons and see how many points they manage to accumulate. Season 7:
Superleague Winners:
1st - Stiff Boys - 2 points
2nd - LaFamilia - 1 point
3rd - We Call It Soccer - 0.5 points
Champions Tournament - KS TRZYNACHA - 1 point
European Tournament - Hakuna Matata - 1 point
Domestic Cup Winners:
England - Go Complain - 1 point
Spain - THUNDER - 1 point
Germany - Check Engine - 1 point
Italy - Łosie w Kosmosie - 1 point
League 1 winners:
England - Bella Ciao - 1 point
Spain - THUNDER - 1 point
Germany - Check Engine - 1 point
Italy - Łosie w Kosmosie - 1 point
You might find it strange that THUNDER won the German league in the 5th season and two seasons later won the Spanish league. This happened because they advanced to SL in the meantime and when they dropped out, they were drawn into another league. This isn't the only case. Let's look at Season 8:
Superleague Winners:
1st - LaFamilia - 2 points
2nd - Stiff Boys - 1 point
3rd - We Call It Soccer - 0.5 points
Champions Tournament - We Call It Soccer - 1 point
European Tournament - Łosie w Kosmosie - 1 point
Domestic Cup Winners:
England - Bella Ciao - 1 point
Spain - Rayo eSports - 1 point
Germany - Check Engine - 1 point
Italy - Łosie w Kosmosie - 1 point
League 1 winners:
England - Bella Ciao - 1 point
Spain - Rayo eSports - 1 point
Germany - Check Engine - 1 point
Italy - Łosie w Kosmosie - 1 point
Let's tally the points after three seasons and see the rankings after eight seasons:
LaFamilia - 13 points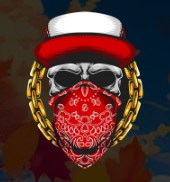 Stiff Boys - 12.5 points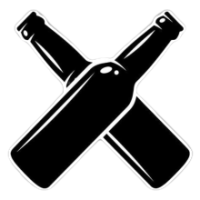 BAVOVNA - 9 points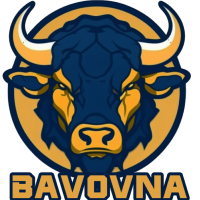 Łosie w Kosmosie - 9 points
Hakuna Matata - 6.5 points
Obstawiamy - 6 points - The club no longer exists.
Check Engine - 6 points
RedBull Fighters - 5 points
KS TRZYNACHA - 4 points
THUNDER - 4 points
Łosie w Kosmosie seamlessly entered the rankings at the 4th position with 9 points. The Check Engine team also didn't sit idle and found its way into the ranking with 6 points. At the moment, KS TRZYNACHA and THUNDER close the ranking with 4 points each, but there are still 2 seasons ahead of us. For now, that's all from me. I wish everyone successful training, and see you on the field!
ONEFOOTBALL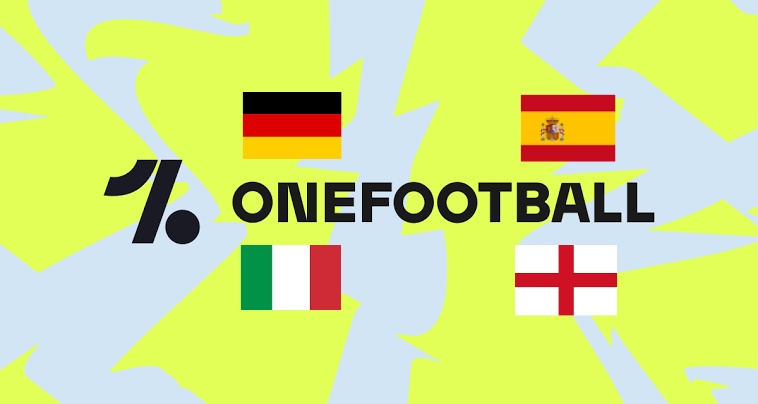 Goalkeeper Vinizin is free on the market after the end of his meeting together with his agents and the board of directors of Cruzeiro FC, in this meeting it was agreed to end the goalkeeper's time after 2 seasons of achievements at the club, being the immediate reserve of the team's current goalkeeper , the player was part of the team's rise in the third division until reaching the peak of the team, gaining access to the first division last season, the player together with his representatives were dissatisfied with his little opportunity in the games, remaining in the majority of the season warming the bench and seeing his "rival" gaining 100% ownership of the team and being the coach's favorite, the player and the club announced his departure and the athlete intends to be announced by the new team in a short time, Rumors say that he will return to the second division for a project that has been attracting attention!
2B England, Liverpool FC is one of the clubs that has had the best performance in the second division, the club that was already a current player in the first division with good campaigns ended up suffering due to a management crisis and was relegated, the club's current board believed in the reassembly of the team, investing heavily in recent seasons, putting together a competitive team aiming to reach the top 2 in the league and return to the long-awaited first division where the club lived for a long time, this season the team is in 5th place with coach Primox doing a great job of tactical organization in the team, the club has Ariel being the top scorer with 35 goals scored and Alexis being the highlight of the team's creation serving 21 passes to goals fighting for the leader medal in the league, the club has been standing out for its teamwork and individual work with these 2 big stars of the team already being watched by teams from other divisions! The club is slowly bringing pride back and giving its opponents trouble!
1A Italy, West Ham United FC has been one of Italy's biggest projects, with the club taking over as the biggest British club after the fall of Newcastle after the club was the biggest in 1A, West Ham led by Goretzka is making a high level campaign with the team currently vying for a place to compete in an international tournament next season, the club is going through a great phase managing to give work to the big players and gaining points against the smaller ones, but the club has been going through a "slump" after the coach's departure!
2B Germany, Juventus has been one of the teams in search of the division title, the team has been fighting on equal terms with 3 other teams for the chance to take the lead in the Championship with the 4 being the favorites, Juventus currently led by President Cesar, despite fighting for the title, is still going through some unknowns and suspicions not only from the fans but also from the press, the club that is currently in 4th place in the league with 2 points behind 1st place, is going through a moment without any Technical Committee leading the club field, with the President having to take on this role after his internal discussion with the club's former coach, the board is looking for a new coach as quickly as possible but not yet a name that has already advanced negotiations with the club, some names have been analyzed for the position such as Tifeu (Saint Angels FC), Dolores (Chacarita FC), Black09 (Atletico Yacare) the names currently employed on the club's list, but the board is still looking for other names to assume as soon as possible as team coach!
Author: James Maddison
EUROPE: THE FOOTBALLING POWERHOUSE
The history of football in Europe is a captivating tale that encompasses the sport's evolution from humble beginnings to its present-day status as the epicenter of the game. Europe stands as the global powerhouse of football, hosting the most prestigious leagues and harboring the most exceptional players on the planet. This ascent to supremacy is rooted in a rich tapestry of history, culture, and structural factors.
European football's origins trace back to the late 19th century when it crossed the English Channel from its native England. British expatriates and students introduced the game to mainland Europe, igniting a passion that quickly spread across the continent.
The early 20th century witnessed the establishment of national leagues in various European nations, setting the stage for modern football. The English Football League, formed in 1888, served as a model for other countries. Soon, leagues in Italy, Spain, and beyond emerged, heralding the birth of domestic football competitions.
The 20th century brought the birth of international competitions, such as the British Home Championship in 1884 and the inaugural World Cup in 1930. These tournaments united nations in a common love for the sport, fostering national pride and international recognition.
European football developed unique philosophies and playing styles. While Brazil introduced the world to the "samba" style of play, European nations emphasized tactical discipline, teamwork, and strong defensive strategies. This approach contributed to European nations' consistent success in international competitions.
The creation of the European Cup in 1955, which later evolved into the UEFA Champions League, transformed the landscape of club football. This tournament, featuring the finest teams from across Europe, became the ultimate stage for clubs to prove their superiority. The legacy of the European Cup endures as a cornerstone of the modern game.
European clubs made significant investments in youth development and academies. This focus on nurturing young talents, exemplified by players like Johan Cruyff, Michel Platini, and Diego Maradona, led to an influx of exceptional players who continue to shape the global football landscape.
Top European leagues, including the English Premier League, La Liga, Serie A, and the Bundesliga, have drawn talent from all corners of the world. Attractive contracts, fierce competition, and world-class facilities have made Europe the preferred destination for the sport's best players.
Europe's football infrastructure, from state-of-the-art stadiums to cutting-edge training facilities, has set the global standard. Investments in technology, sports science, and fan experiences have firmly established Europe as a footballing powerhouse.
The UEFA Champions League, the successor to the European Cup, epitomizes Europe's footballing legacy. It serves as a melting pot of diverse footballing cultures, where the world's top clubs, talents, and tactics converge. The tournament's allure, high-stakes matches, and historic moments have made it the pinnacle of club football.
Europe's dominance in football continues to flourish. The continent's ability to attract the best players, coaches, and clubs has created an intensely competitive environment. Europe's success in international competitions and the quality of its domestic leagues serve as a testament to the enduring legacy of European football.
Enjoy the new event! Leave your comment at the bottom of this page. See you next week. Good luck and happy gaming to everyone!


Author: Diegol
CRYSTALS IN CARD COLLECTIONS
Hello, this is Matushevsky!
This is the fourth week in which I present to you which collections are the best places to exchange the prizes we expect. After energy, golden balls and the Ball of Success, it's time for crystals.
Crystals can be found in 18 collections: Collections containing Crystals: BULL FIGHTER, SEMPER FIDELIS, TWO OF THEM LIKE THREE OF US, TEAMS WITH "FC" IN THEIR NAME, OFFENSIVE AND DEFENSIVE MIDFIELDERS, RIGHT MIDFIELDERS AND DEFENDERS, LEFT MIDFIELDERS AND DEFENDERS, FORWARDS, CENTER MIDFIELDERS AND DEFENDERS (EPIC), LEFT MIDFIELDERS AND DEFENDERS (EPIC), LEFT DEFENDERS (TOP20), RIGHT FORWARDS (TOP20), RIGHT MIDFIELDERS (TOP20), CENTER MIDFIELDERS (TOP20), RIGHT DEFENDERS (TOP20), FORWARDS (LEGENDARY), RADIOACTIVE SQUAD (TEAM), COPACABANA (TEAM).
Let's see what they look like sorted:
Green Crystal of Success:
1/ BULL FIGHTER - 1020 Fame Points - 3x Green Crystal of Success
2/ TEAMS WITH "FC" IN THEIR NAME 1980 Fame Points - 6x Green Crystal of Success
3/ RIGHT MIDFIELDERS AND DEFENDERS - 2400 Fame Points - 6x Green Crystal of Success
Red Crystal of Success:
1/ SEMPER FIDELIS - 1050 Fame Points - 1x Red Crystal of Success
2/ OFFENSIVE AND DEFENSIVE MIDFIELDERS - 2400 Fame Points - 2x Red Crystal of Success
3/ LEFT MIDFIELDERS AND DEFENDERS - 2400 Fame Points - 2x Red Crystal of Success
4/ CENTER MIDFIELDERS AND DEFENDERS (EPIC) - 7200 Fame Points - 4x Red Crystal of Success
5/ LEFT MIDFIELDERS AND DEFENDERS (EPIC) - 7200 Fame Points - 4x Red Crystal of Success (with 1x Golden Crystal of Success)
6/ LEFT DEFENDERS (TOP20) - 11 680 Fame Points - 2x Red Crystal of Success
Golden Crystal of Success:
1/ FORWARDS - 3600 Fame Points - 1x Golden Crystal of Success
2/ TWO OF THEM LIKE THREE OF US - 4770 Fame Points - 1x Golden Crystal of Success
3/ LEFT MIDFIELDERS AND DEFENDERS (EPIC) - 7200 Fame Points - 1x Golden Crystal of Success (with 4x Red Crystal of Success)
4/ RIGHT FORWARDS (TOP20) - 11 680 Fame Points - 1x Golden Crystal of Success
5/ RIGHT MIDFIELDERS (TOP20) - 11 680 Fame Points - 1x Golden Crystal of Success
6/ RIGHT DEFENDERS (TOP20) - 11 680 Fame Points - 1x Golden Crystal of Success
7/ RADIOACTIVE SQUAD (TEAM) - 13 630 Fame Points - 1x Golden Crystal of Success
Platinum Crystal of Success:
1/ CENTER MIDFIELDERS (TOP20) - 11 680 Fame Points - 1x Platinum Crystal of Success
2/ FORWARDS (LEGENDARY) - 19 200 Fame Points - 1x Platinum Crystal of Success
And one collection with tons of crystals:
1/ COPACABANA (TEAM): 23 840 Fame Points - 1x Platinum Crystal of Success, 1x Golden Crystal of Success, 4x Red Crystal of Success, 10x Green Crystal of Success
Unfortunately, historical crystals cannot be found anywhere. The update introducing this type of crystal did not cover the collection. Is this an oversight? Probably. We are waiting for historical crystals to appear in collections.
I will not analyze which of the collections containing crystals is the most profitable. I won't do it because most people exchange collections not to receive them. Crystals fall "by the way".
And I'll come back to you next week with further analyses.

Author: Matushevsky
TRADING COLUMN #39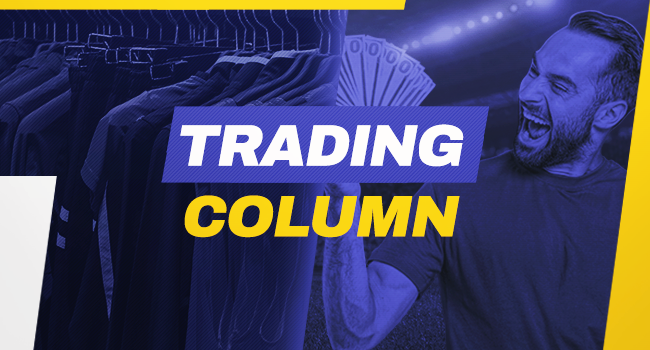 Welcome to the next edition of the Trading Column! What happened to the Market this week? The value of Gold Items have increased and much more! Please feel free to read it. 
Lowest price of Green - Gold Items
The price of Green Items ranged between 19-22 Credits. 
Red Items cost 120 Credits.. 
The value of Gold Items are increased. Currently, the cheapest one we can buy for 620 Credits. That's over 150 Credits more than a week ago.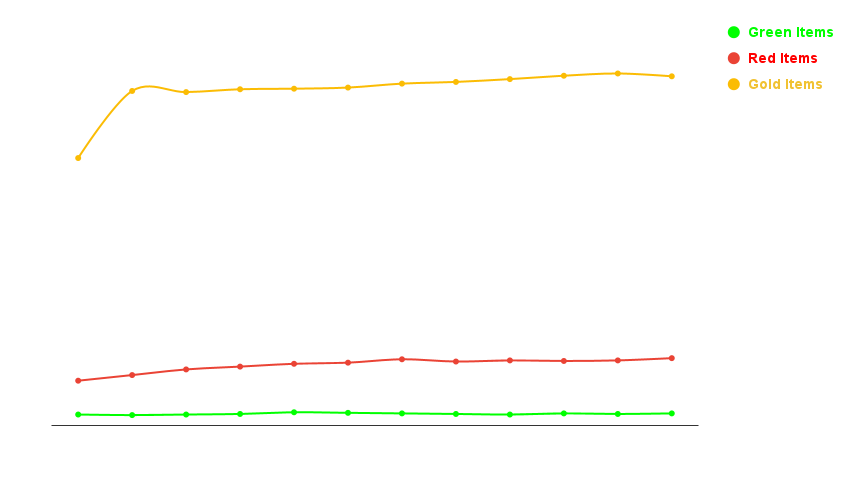 The lowest price of Green-Platinum Balls
Green Ball of the Trick Champion on Anticipation (+30 PTS) is the cheapest Ball on the market and costs 3190 Credits.
Red Ball on Offensive Play (+40 PTS) costs 4499 Credits.  
Gold Balls are not available on the market
Platinum Balls are not available on the market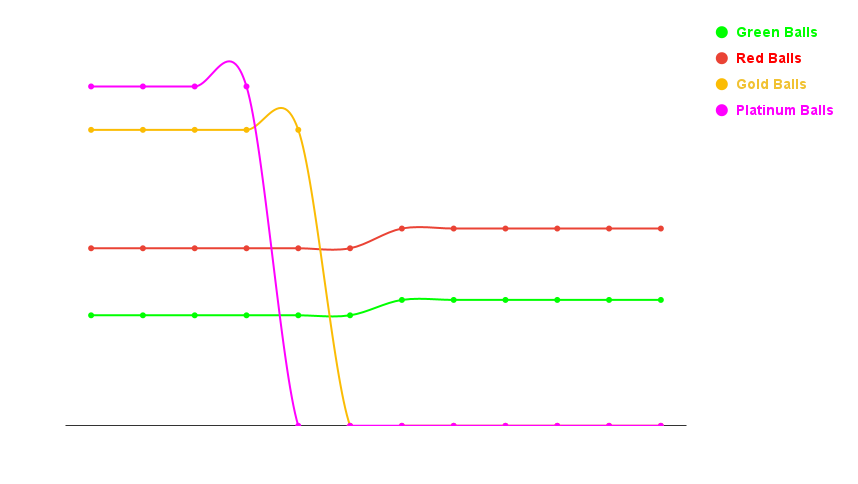 The lowest price of Green - Platinum Wristbands
Green Manufacture Wristband on Playmaking (+30 PTS) costs 3000 Credits.
Red Wristbands are not available on the market
Gold Domestic Wristband on Playmaking (+50 PTS) costs 9898 Credits.
Platinum Collector's Wristband on Pressing (+55 PTS) costs 19850 Credits.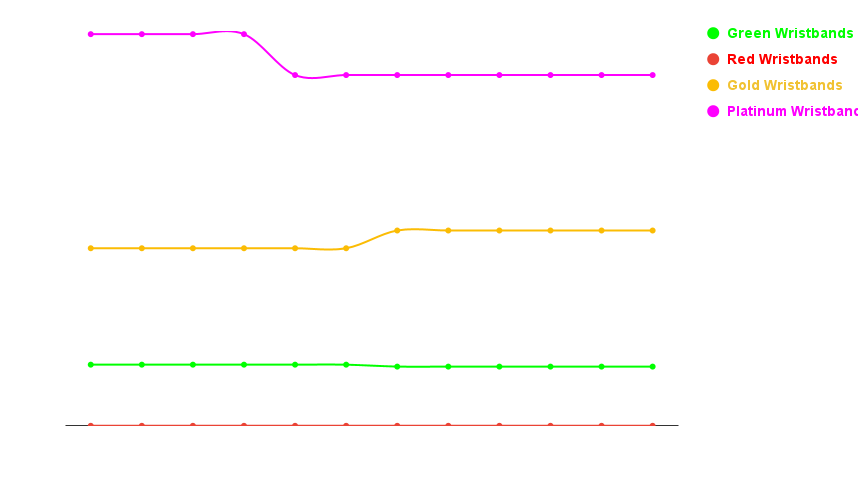 The lowest price of Diamond Balls and Wristbands
Diamond Ball of the Training Champion on Stamina (+147.2 PTS) costs 35200 Credits.
Diamond Conqueror Wristband on Stamina (+155.7 PTS) costs 39999 Credits.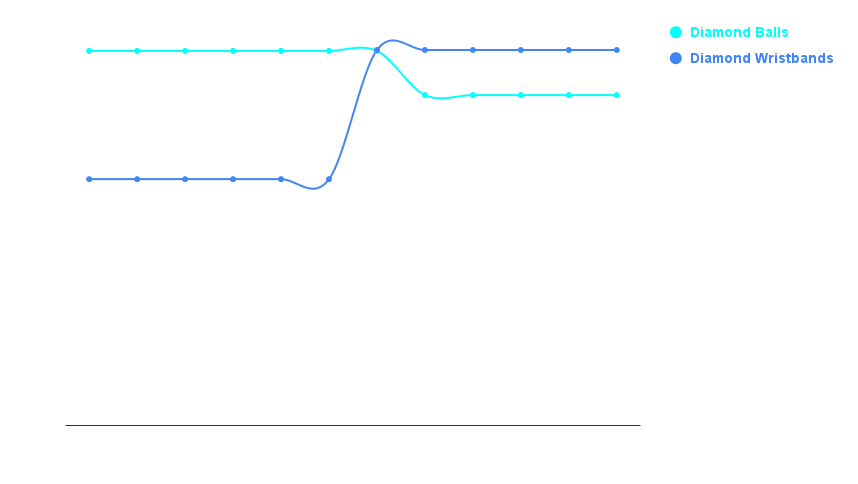 The lowest price of Green - Platinum Shin pads
Green Manufacture Shin Pads on Defensive Play (+30 PTS) cost 4000 Credits.
Red Shin Pads are not available on the market
Gold Shin Pads are not available on the market
Platinum Shin Pads of Domination on Pressing (+55 PTS) costs 23500 Credits.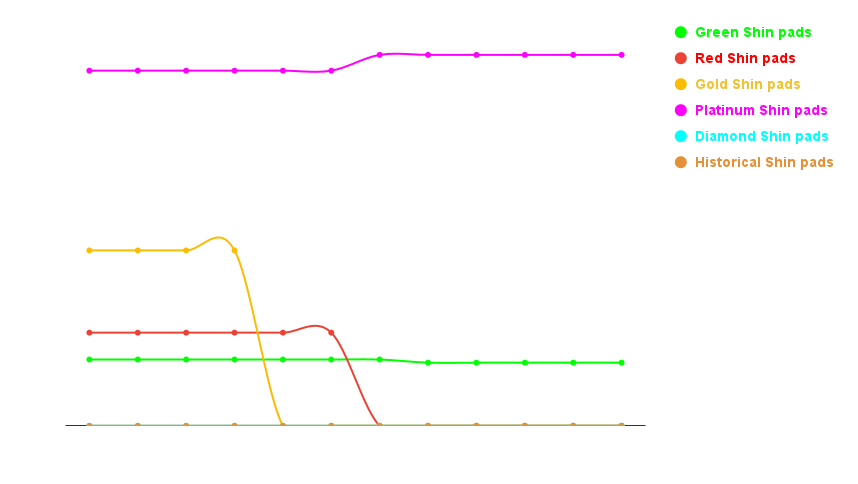 The lowest price of Material Fragments
White Fragment - 4 to 6 Credits
Red Fragment - 4 to 6 Credits
Blue Fragment - 6 to 8 Credits
Green Fragment - 4 to 6 Credits
Yellow Fragment - 12 to 15 Credits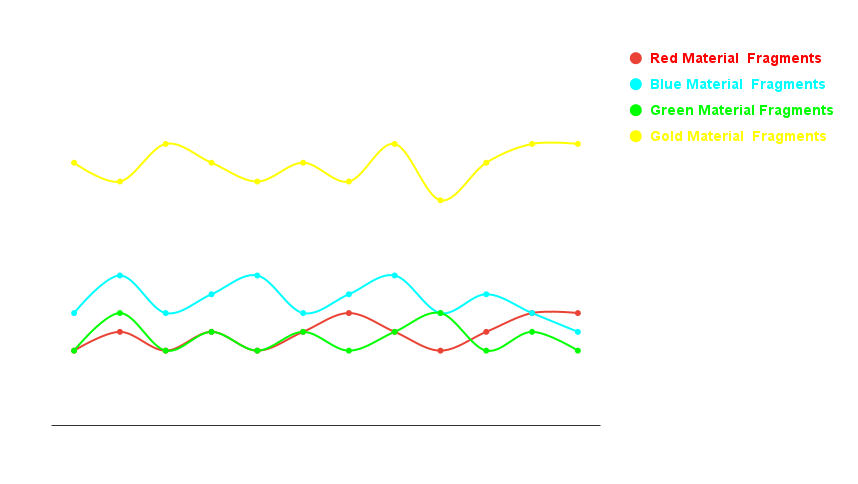 Common Packs
Bronze Pack - 4 Credits
Silver Pack - 4 Credits
Gold Pack - 8 Credits
Platinum Pack - 23 Credits
Diamond Pack - not available on the market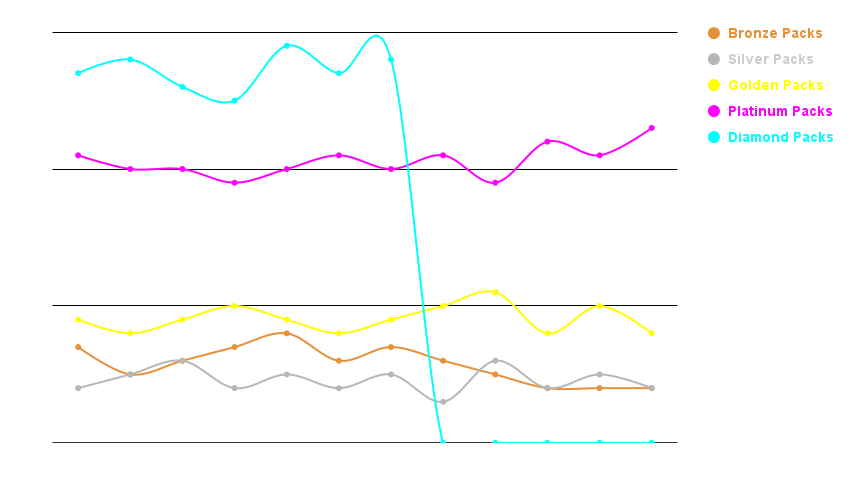 Crystals of Success
Green Crystal of Success - 420 Credits
Red Crystal of Success - 649 Credits
Gold Crystal of Success - 3149 Credits
Platinum Crystal of Success - 4750 Credits
Historical Crystal of Success - 15000 Credits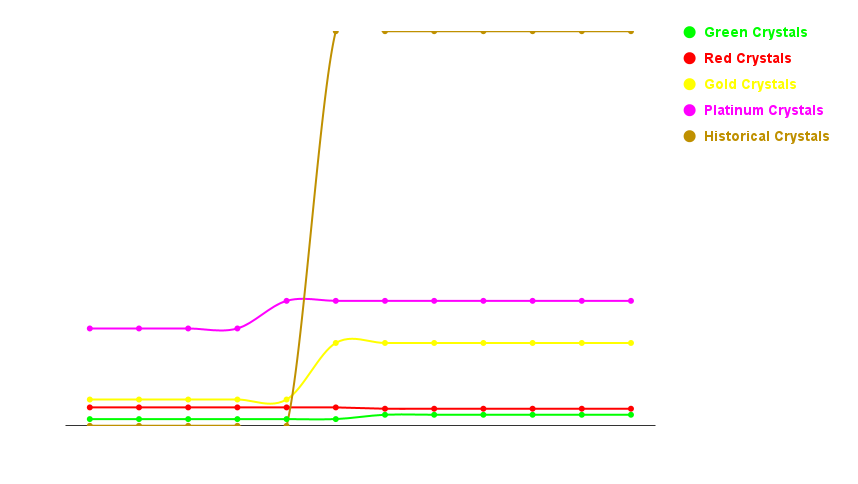 Drinks
a/ Increasing Skills
Rocket Fuel Drink- allows making a free Training Centre
II (+100 Trainings) - 69 Credits
III (+200 Trainings) - 149 Credits
IV (+300 Trainings) - 250 Credits
V (+500 Trainings) - 555 Credits
Team Training Drink - more trainings in team training (one skill)
IV (50%) - 50 Credits
V (80%) - 120 Credits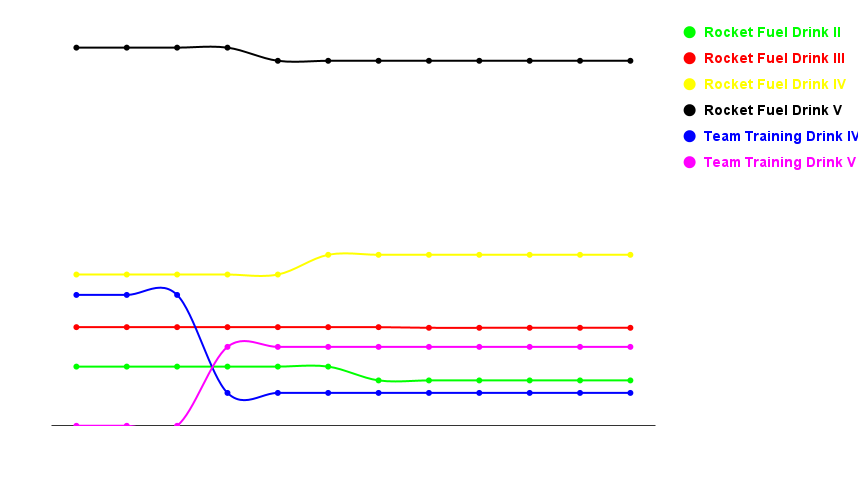 b/ Cheaper training (euro)
Pennywise Drink- reduces the price of a Euro in training for a given period of time
II (-15% for 30 minutes) - 19  Credits
III (-30% for 30 minutes) - 44 Credits
IV (-20% for 6 hours) - 72 Credits
V (-30% for 6 hours) - 200  Credits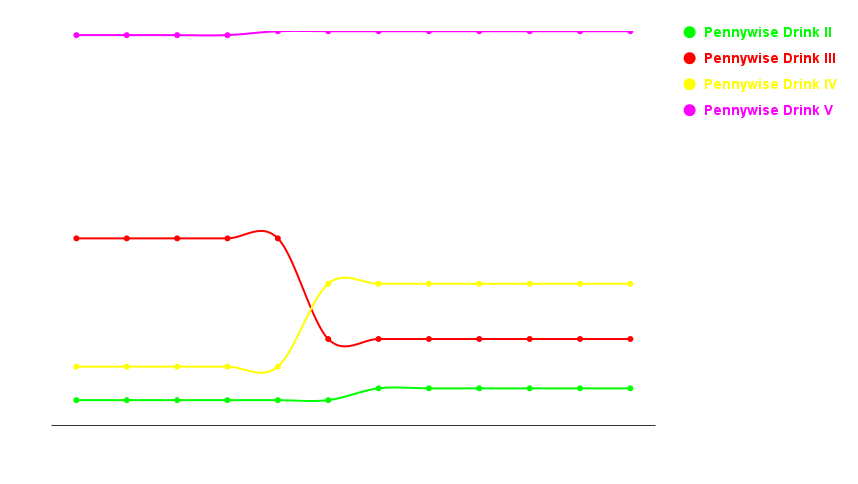 c/ Cheaper training (energy)
Provident Drink - reduces the cost of Energy when training with a bot
II (-10% for 30 minutes) - 65 Credits
III (-20% for 30 minutes) - 179 Credits
IV (-10% for 6 hours) - 234 Credits
V (-20% for 6 hours) - 529 Credits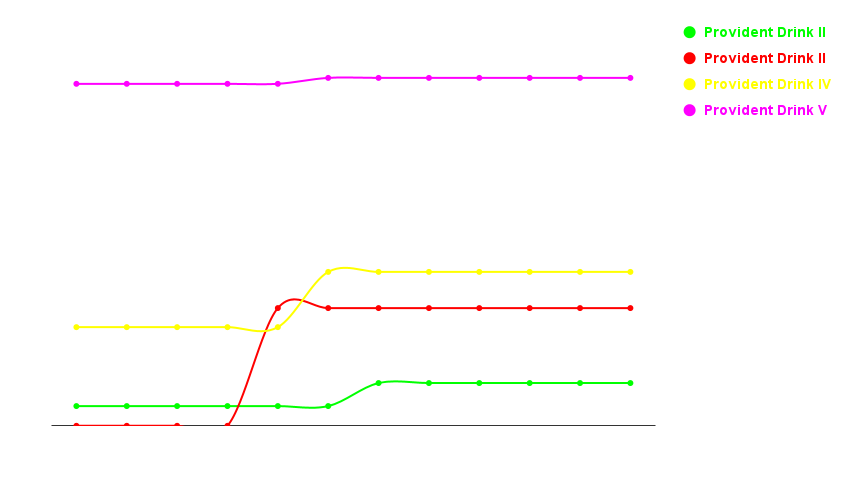 d/ More Euro from work
Millionaire Drink- increases the Euro gained from Work
I (+20% for 30 min) - 24 Credits
II (+50% for 30 min) - 49 Credits
III (+100% for 30 min) -299 Credits
IV (+50% for 6 hours) -  198 Credits
V (+100% for 6 hours) - 600 Credits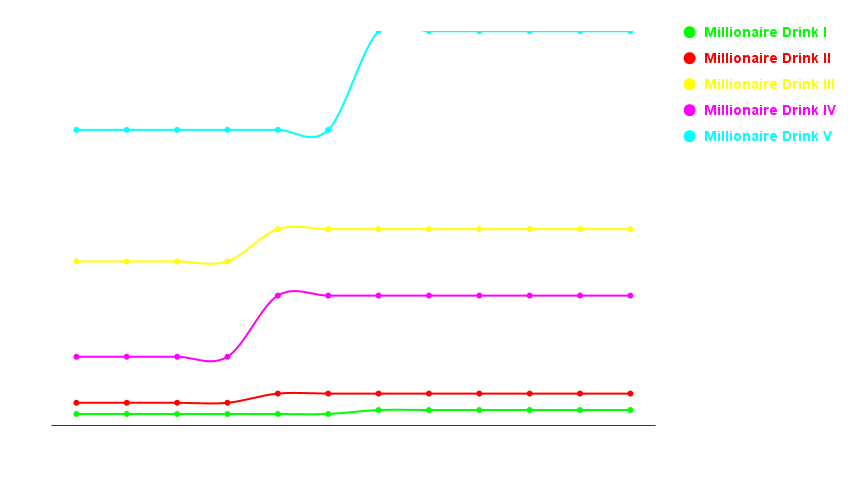 e/ Selling Items
Golden Drink- increases the number of Golden Balls for selling Items
III (+20% for 15 minutes) - 135 Credits
IV (+45% for 15 minutes) - 190 Credits
V (+70% for 15 minutes)- 599 Credits
Dealer Drink - increases the number of Euro for selling Items
III (30% for 15 minutes) - are not available on the market. 
IV (65% for 15 minutes) - not available on the market
V (100% for 15 minutes) - 200 Credits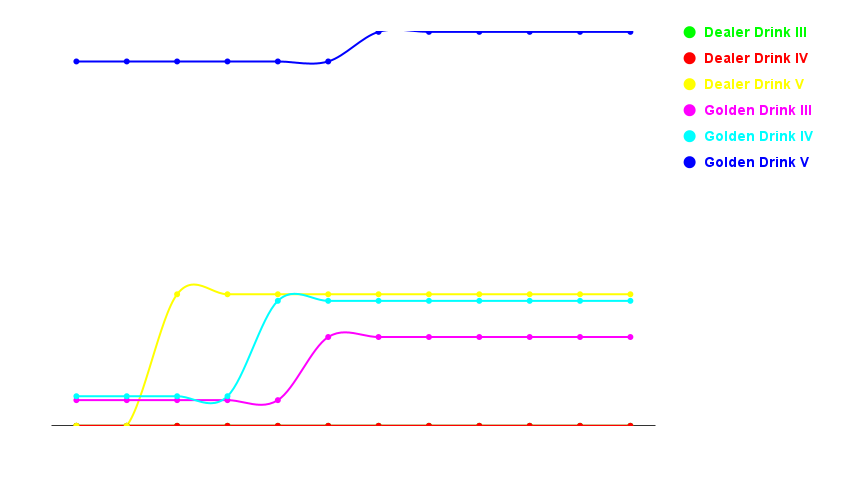 f/ Others
Engagement Drink - free engagement activation at any level
33% - 95 Credits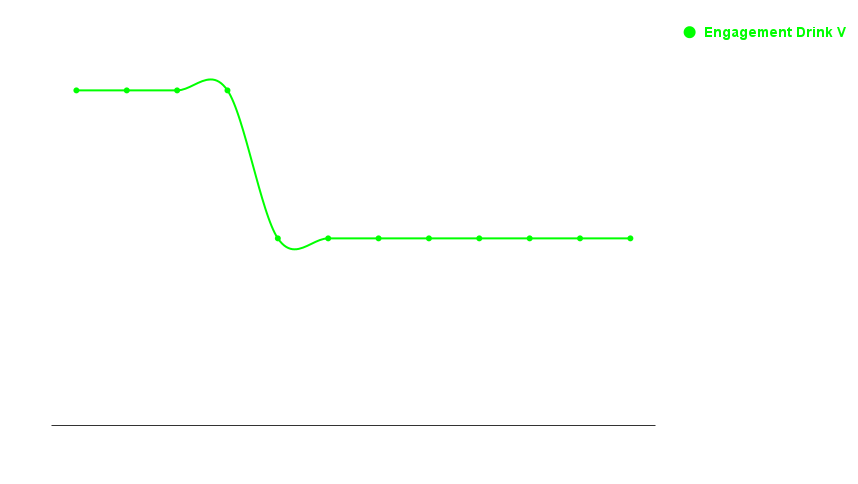 Thank you for reading my article. We'll see you next week! 
Author:Wyl3winho


WHERE ARE THE BEST US TEAMS?
After the expected merger of the United States and European servers in the world of FTG, a transformation was generated that led some emblematic teams to redefine their strategies, marking a before and after in the competitive landscape.
Will it be a positive change? How are the teams doing?.
In this article we will talk about the position of the teams that managed to be important and very competitive within the American server and how today, these great changes resulted in their ambitions and structure.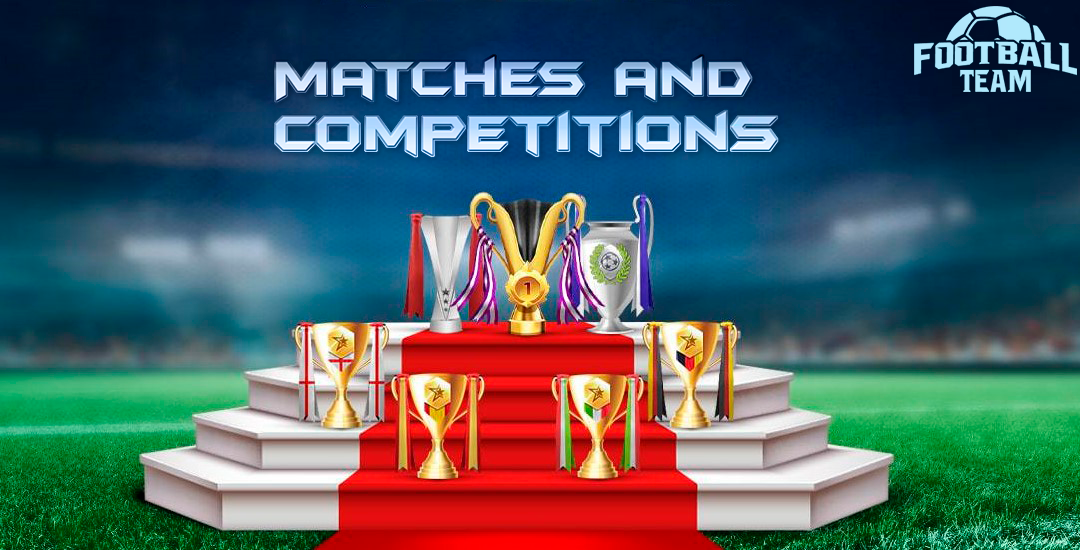 Two teams, Valiance Crew &C N Marcílio Dias, two great rivals in recent seasons in the US server, found themselves competing in the Super League, but unfortunately their performance was not as expected. 
Both teams fell to last place in the competition, which meant a considerable drop in the general classification of the best teams, placing them in 15th and 17th place in the Top Teams. 
This situation leads to those players who achieved greater success in previous seasons, today seeking other paths and new objectives, with those teams that usually occupy higher positions in this new super league.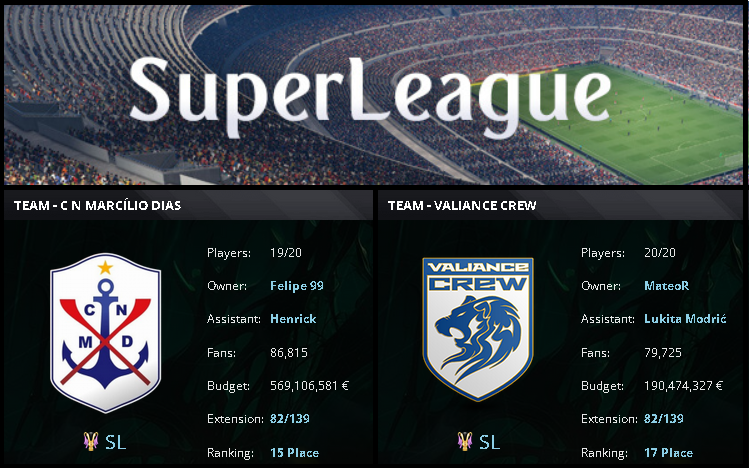 Another great team with a lot of prestige managed to stand out notably , Sons of Odín, a team that attracted attention for playing in the Spanish league after the merger. Despite not reaching the top, they managed to secure fifth place in the league, ranking 18th among the best teams in this Spanish league. 
Their adaptation to the new competitive environment was positive, showing constant and solid performance.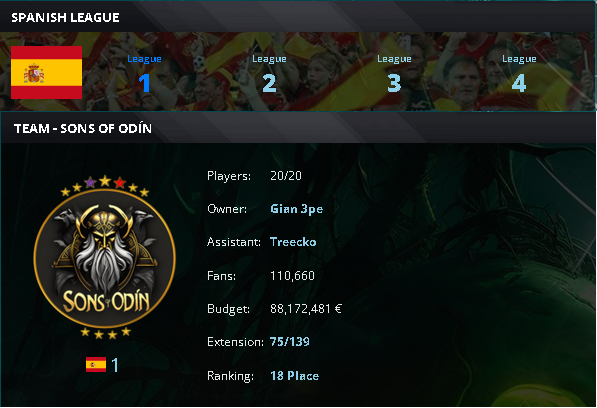 An interesting case was that of Wolverhampton FC, which after the merger, was assigned to play in the German league, in my opinion, the most competitive of the leagues. 
This strategic change took them to fourth place in the league, which represented a significant rise compared to their previous performance within the super league.
They were ranked 23rd in the Top Teams, this transition to a different league showed an evolution in their style of play and tactics, in addition to adding several players from the team known as ANCIENT WARRIORS, today unified by the objective of fighting for the national cups and the league.
Leviathan, for its part, also entered the German league and achieved third place in the competition, ranking 24th among the Top Teams. This relocation allowed them to consolidate their position as one of the elite teams, demonstrating their ability to adapt and compete successfully in a new environment. 
It is one of the great teams that managed to communicate in this new language and attract the attention of the European community, thanks to its owner HUNTER who managed to successfully speak several languages from this region and sign great local players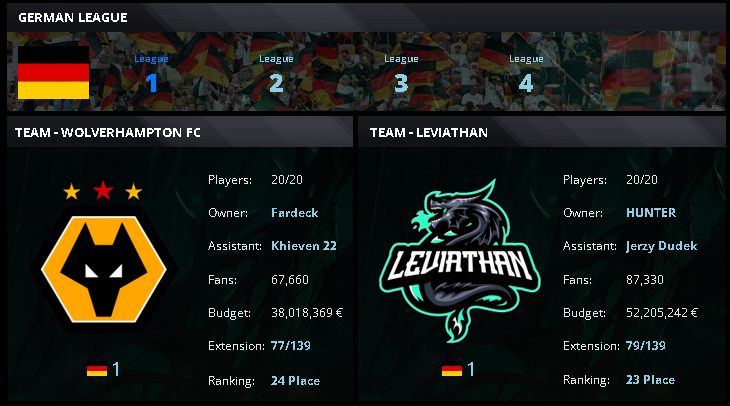 The server merge gave these teams the opportunity to explore new horizons and challenges. Although some teams failed to maintain their privileged position, others found their space in different leagues and competitions, revealing a versatility that, until then, was unknown to them. 
This change served as a reminder of the importance of team camaraderie and the ability to adapt to ever-evolving competitive environments. Some amateur teams witnessed how the lack of commitment once destabilized their objectives, they had to rethink their strategies to continue or abandon their project, in order to remain relevant in a broader and more challenging context as this new EU server presents to us.
This is all for now, thanks for reading us, I hope you liked it, with a positive vote for more content of this type.
¡See you soon, warriors!

Author:Khieven 22
THE LUCKIEST KICK: THE EXTAZZZ CHRONICLES
Extazzz, an enigma in the world of football, was a 24-year-old center forward who had been born in a forgotten corner of Romania, specifically in the picturesque village of "Zorilă." This idyllic place was nestled in the rolling hills of the Carpathians, where the air was pure, and the green mountains rose majestically against the sky. The irony of the story was that it was said that Extazzz had been raised in a casino in some city near Chernobyl, although the truth was much more extravagant and mysterious than people believed.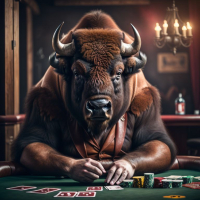 His childhood was marked by a highly unusual event: his family's migration to a region near Chernobyl shortly after the nuclear disaster. Nobody knew exactly where, but there he spent his early years. While some attributed his "toxic" personality to this experience, living near such a nuclear disaster, Extazzz made fun of this theory, claiming to be a genuine "football mutant."
From an early age, Extazzz was immersed in the world of gambling and games, hence the belief that he was born in a casino, a theory that no one doubted, but still, no one was certain. The anecdote that circulated in his hometown maintained that he was born in a casino, as he always seemed to enjoy extraordinary luck. He used to joke about it, saying that he was "born with an ace up his sleeve."
Such was Extazzz's luck that no one knew how he came to play professional football, as his childhood was dedicated to chance. Nevertheless, there he was, suddenly appearing on the green fields of the Arctic Bears's secondary stadium. His ability to calculate probabilities, and a strength, perhaps developed by his "toxicity," perhaps not, quickly made him stand out in the national leagues.
Despite his unique background, Extazzz emerged as a talented center forward and was quickly signed by BAVOVNA in the Superleague, defying logic on the playing field. He was a player blessed by fortune, and his teammates admired him for his skill and composure in critical situations. Fans nicknamed him "the samurai of football" due to his ability to stay calm in crucial moments, a calmness that took him to the pinnacle of football and paved his path with glory.
Extazzz adhered to a simple yet profound philosophy that he considered his motto: "A samurai has no dreams, only a path." This attitude drove him to overcome obstacles and never deviate from his destiny in football, and of course, in gambling.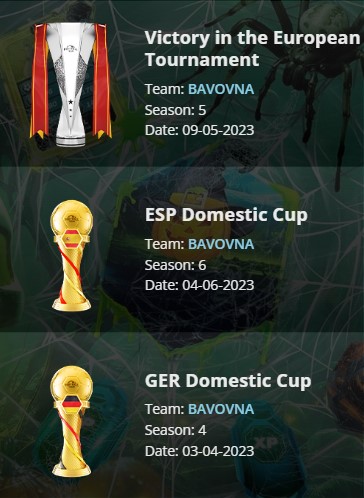 His childhood idol was the famous Real Madrid forward, Karim Benzema. The story they shared unfolded during his adolescence when he managed to sneak into the dressing room of the 'Los Blancos' team. There, he challenged Benzema to a simple card game, to which the forward of the white team couldn't refuse due to his personality, and, to everyone's amazement, Extazzz won. This remarkable victory granted him the opportunity to train with Real Madrid for that day, a moment that marked his life forever and further helped him develop as a center forward.
Off the field, Extazzz was known for his penchant for luxury and vices, especially gambling. Rumors circulated that he was seeking a wealthy partner who could fund his extravagant lifestyle and unconventional habits. He himself joked about his "investments" in slot machines and roulette, but no one knew if his words were serious or simply part of his peculiar sense of humor.
Despite his eccentric personality and affinity for gambling, his talent on the field was undeniable. Throughout his career, Extazzz achieved numerous goal-scoring records, and his presence on the pitch was always an enigma for his opponents. In every match, he displayed unparalleled skill and composure rarely seen in the world of football. With his team, he won multiple league titles in Spain and Germany, Spanish and German league cups, and even earned the title of the best forward in the Spanish league. However, the pinnacle of his glory came when he won the European Tournament as a starter and undisputed figure throughout the tournament, scoring 11 goals in 9 matches.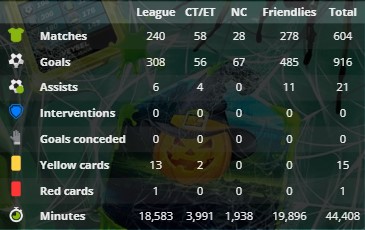 With an enigmatic look and a mischievous smile, Extazzz continued his journey in football, leaving behind a trail of surprises and triumphs. His story, much like his life, was a blend of mystery, humor, and success in a world that, just like the casino he was said to have been born in, always had something unexpected up its sleeve. Extazzz, the "samurai of football," continued to captivate the world with his unique personality and unwavering passion for the game.

Author: Lucas Ferrari
DO CLUBS IN THE UNITED STATES JOIN THE BEST?
These days there is a very big rumor in the United States community that we came to the Eastern European server, as we know many of the players who were previously used to being decisive in the teams are common players today as we see on the server because of the great difference in level between the best on this server and those on the United States server.
But that does not take away the echo that they are not good, although they will no longer be able to fight in a super league, they can do something that is always tried, which is to bring together those who were left in teams without being able to fight any competition and put together a strong team in a league that does not have so many high-level players to be able to fight in that league, but for many this is impossible to happen due to the great union that exists within the teams with their clubs, as we know many are players from Latin America and the Brazilian server, these have to be very entrenched in terms of leaving the clubs, with a union with their clubs more than normal for many players it is impossible to leave their club or think about changing in this season or the next ones.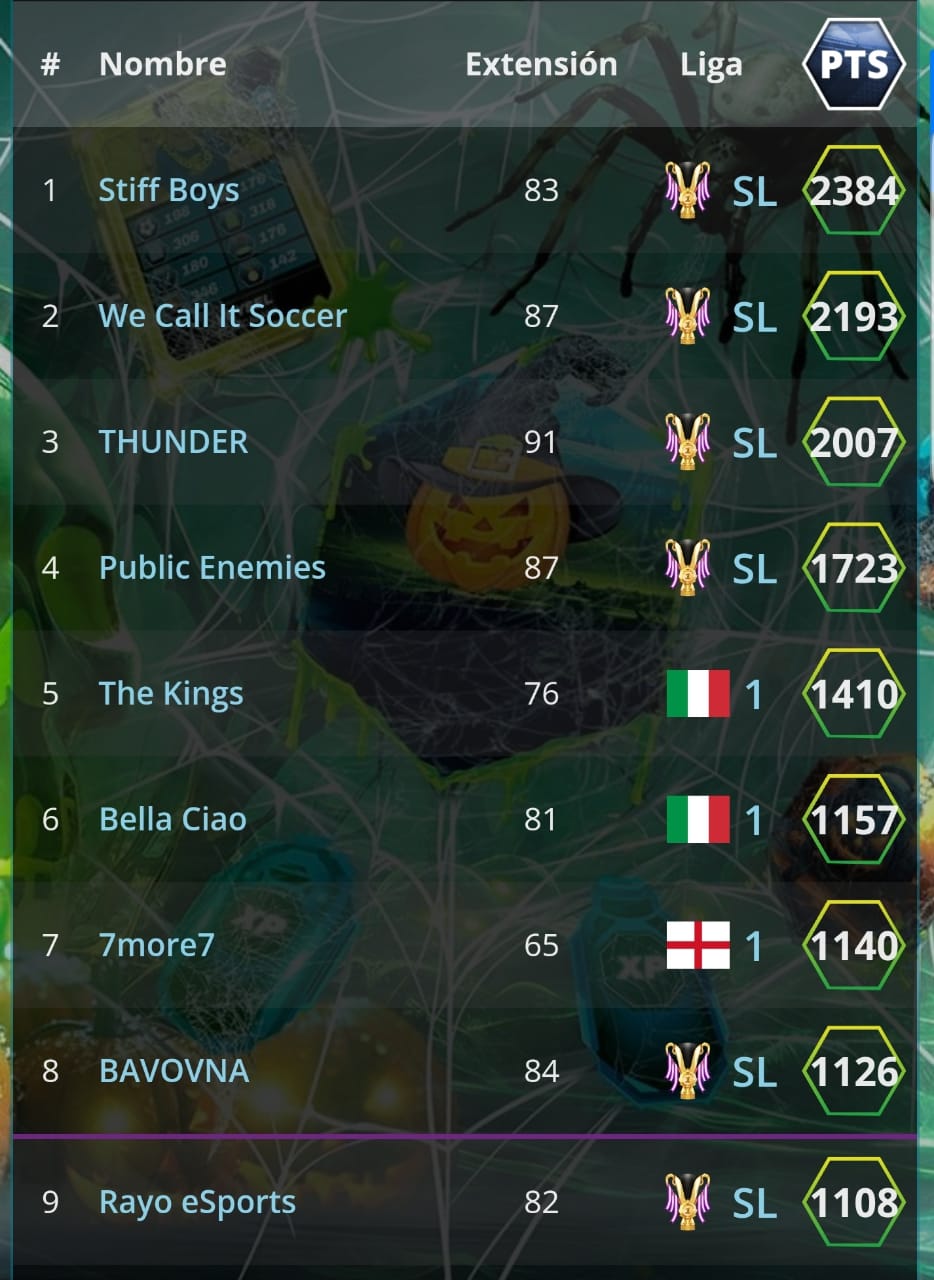 But we know that there is an attempt by the best players who were left unable to compete in anything to join a team in a league able to compete, they would only have to gather chemistry but we do not know what team or what league they would be looking for, the weakest league To put it in a way where these players could compete or try, it would be the Spanish league, since the best club in the United States C N Marcilios Dias is very close in relation to the best club in the Spanish league, now where the good comes from, will this club be able to get down to the Spanish league or bring together the best players from the United States to be able to compete in a league.
There are several teams already in the Spanish league that comes from the United States, these clubs could be used to have the best players and with these try to fight this league, the issue is that the best players get into talks to be able to compete, which is something which today seems almost impossible in what the server is.
Apart from this we see that there is no player from the United States who can stand out within this server, having a very low level of training compared to the competition on the server.
What if few have thought about this new server to unite with some clubs that already compete to be champions or stand out in a league, we see that the server community stays in their teams, and we believe that this is because the majority are Latin and They tend to stay in one place forever with friends.

Author: Gabriel Jesus


ET START OF THE PLAY-OFF
The UEFA Europa League, often referred to as the "Europa League" or "UEL," is one of the most prestigious and exciting football competitions in Europe. This tournament is the second-tier club competition on the server, just below the illustrious UEFA Champions League.
The journey to the UEFA Europa League Play-Offs is a thrilling one, full of twists and turns as teams from across Europe battle it out on the pitch. The competition begins with a group stage, where 16 teams are divided into 8 groups of four. Each team plays a total of six matches, three at home and three away, in a round-robin format. The top three teams from each group, based on points accumulated, advance to the knockout stage.
Once the group stage is completed, the competition shifts to a knockout format. This is where the Play-Offs truly come into focus. The Round 1/8 are eagerly anticipated as clubs aim to progress further in the tournament. The aggregate score of these two-legged ties determines which teams advance, and it often leads to intense, high-stakes encounters that captivate football fans across the server
As the competition progresses, the Europa League Play-Offs take on an increasingly prominent role. In the quarter-finals and semi-finals, teams continue to battle it out, dreaming of reaching the final and lifting the trophy. The UEFA Europa League final is a grand occasion, usually held at a prestigious venue. The finalists compete in a single match, with the winner crowned the UEFA Europa League champion. 
One of the unique aspects of the UEFA Europa League is that it offers smaller clubs the opportunity to compete with established giants, leveling the playing field. Upsets and surprises are commonplace, making the tournament a thrilling spectacle for fans. Clubs from various countries, each with their distinct style of play, come together to create a tapestry of football diversity.
The Play-Offs in the UEFA Europa League are not just about individual success but also national pride. So, the journey of a single club in the Play-Offs can have far-reaching implications for the entire football landscape of its country.
Over the years, the UEFA Europa League has seen many memorable moments and legendary performances. From incredible comebacks to stunning goals, the competition has provided countless memories for football enthusiasts. Whether it's a small club from a lesser-known league exceeding expectations or a historically significant team adding another European trophy to their collection, the Europa League consistently delivers moments that keep fans on the edge of their seats.
In conclusion, the UEFA Europa League Play-Offs are a vital and exhilarating phase in the journey of clubs across Europe. This competition not only showcases the diversity and depth of talent in European football but also offers clubs a shot at continental glory and a path to the UEFA Champions League. The unpredictability and drama that unfold in the Play-Offs make this tournament a must-watch for football fans, and it remains a stage where dreams are realized and legends are born.
In this playoff draw there are 4 clear favorites to win: 
Bella Ciao - 1157 OVR
7more7 - 1140 OVR
BAVOVNA - 1126 OVR
Hakuna Matata- 972 OVR
7more7 and BAVOVNA can meet as early as 1/4. And the Hakuna Matata may well play with the winner of their pair in 1/2. Bella Ciao received the simplest bracket among the favorites, but who knows what the teams that received less attention than others might have in store.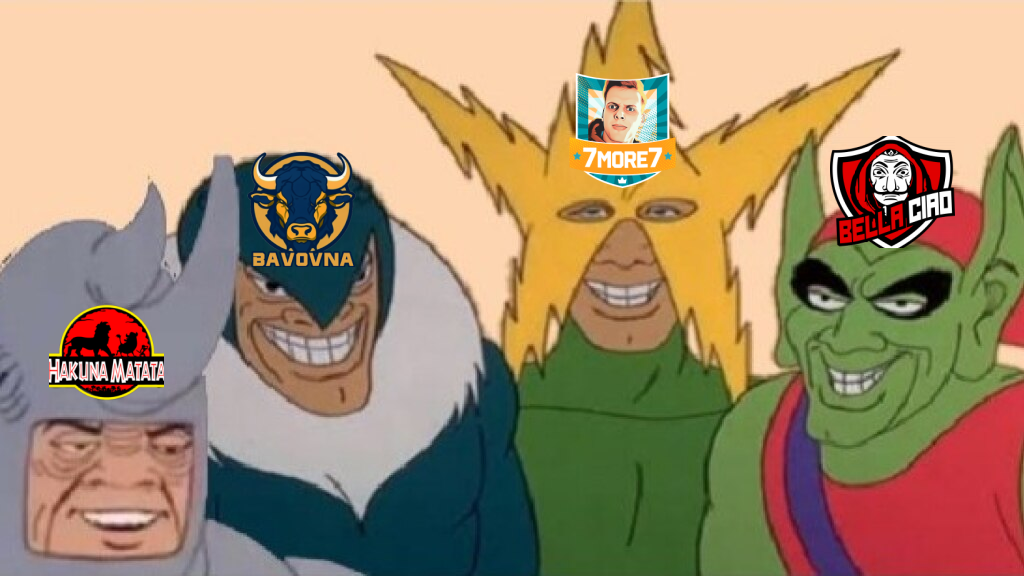 Author: Senya Shelove
Leave comment
Users must be logged in to comment.
6 Comments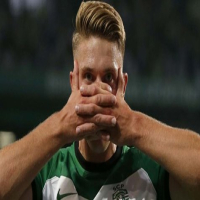 1 month ago
11-02-2023 06:55:22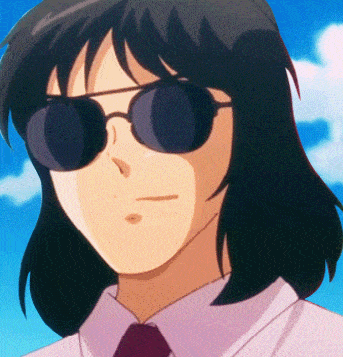 1 month ago
11-01-2023 22:43:36
1 month ago
11-01-2023 18:53:00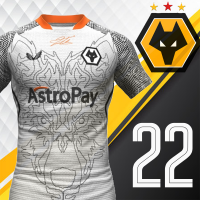 1 month ago
11-01-2023 16:05:44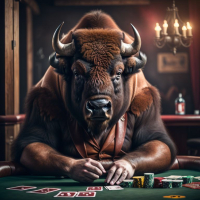 1 month ago
11-01-2023 15:53:33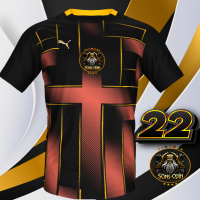 1 month ago
11-01-2023 15:16:00