The FT Sport Journal #45
11-08-2023
Your weekly source of information and entertainment, Sports Journal #45 brought to you by our journalists, is here! Remember to vote for your favourite article at the end! ☕
TABLE OF CONTENTS
1/ FOOTBALL STATISTICS FOR SEASON 11
2/ INTERVIEW WITH Felipe 99  Part 1/2
4/ SENYA SHELOVE: A PORTRAIT OF A PROMISING YOUNG TALENT
6/ DOMESTIC CUPS SEMI - FINALS
8/ ERFORT: OVERCOMING LIMITS AND DEFINING THE PATH TO SUCCESS
FOOTBALL STATISTICS FOR SEASON 11
Greetings everyone!
In the current 11th season, the teams have already played most of their matches, namely 19. Therefore, based on the statistics for these 19 matches, I will try to identify the clubs with the best offense and the best defense, as well as find out which clubs in the current season have problems with converting dangerous moments and problems when defending. 
We will determine the best and worst teams in the Super League, 1st League and 2nd League. If a club has technical defeats, then I suggest not taking into account the statistics of such a club. So, dear readers, are you ready? Then let's get started.
Let's start with the teams of the Super League.
The club Stiff Boys has the most goals scored. 93 goals. Of these, 57 are on the account of the club's striker - Patrickkk, who is simply unstoppable this season. So many goals are also scored thanks to the club's midfield, who create scoring chances for their forwards. And here it is worth noting Acherat, who has a productive action in almost every match.
Now let's find out who conceded the least goals. And it's the Stiff Boys club again. These statistics, as well as the 1st place of the club in the Super League, suggests that so far this is the strongest club in the server. The club has only 16 goals conceded. And this is the merit of the defensive midfielder - Reginald. The player is the leader in the number of interventions made.
Now I propose to figure out which clubs score the least and concede the most goals.
Problems with the attack are observed in two clubs: C N Marcílio Dias and Valiance Crew. The clubs have only 18 goals scored. In addition, the Valiance Crew club also has problems with defense. The club has already conceded 84 goals. As you can see, clubs that have switched from the American server have to experience certain problems, which, I hope, they will be able to solve.
Now let's go to the 1st league and analyze the statistics of  the teams.
Having analyzed the statistics of the teams, we can see that the Polish DF club from the Spanish championship has the best attack. The club has scored 110 goals. The club's best forward is ADONIS27. The player scored 34 goals. 
And now let's find out which club has the best defense. And this is the Hakuna Matata club playing in the German championship. They have only conceded 4 goals. And the goalkeeper of this club is currently the best in the league. It's ArturBelous2606. 
The best clubs have been dealt with, so we move on to the outsiders of the league.
The olimpia club has the worst attack. The players of this club have not been able to score a single goal so far. Therefore, they deservedly occupy the last place in the Italian championship.
Latam United has the weakest defense. The club has already conceded 108 goals this season.
It remains to analyze the 2nd league.
Let's start with the best attack. And here the Saluz BR club is in the lead, which has 92 goals scored. And 1st place in the championship 2B ENG. The team's best forward is Dmigol, who scored 62 goals.
At the same time, the Saluz BR club is also very good defensively, conceding only 4 goals. And at the moment, it is indisputably the best club in the 2nd league. Therefore, it is also necessary to say about the defender and goalkeeper of the club, who do their job very well. These are Maldini and Infiltrado. 
Let's move on to the weakest teams. The club with the weakest offense is FC HEISENBERG. The club plays in the league 2A GER. And so far, there are only zeros in the column of goals scored. And the last place in their league. 
It remains to determine the team with the weakest defense. And this is the FC Porto club. He has conceded 107 goals.
For your convenience, I have prepared tables in which you can see the results of my statistical analysis.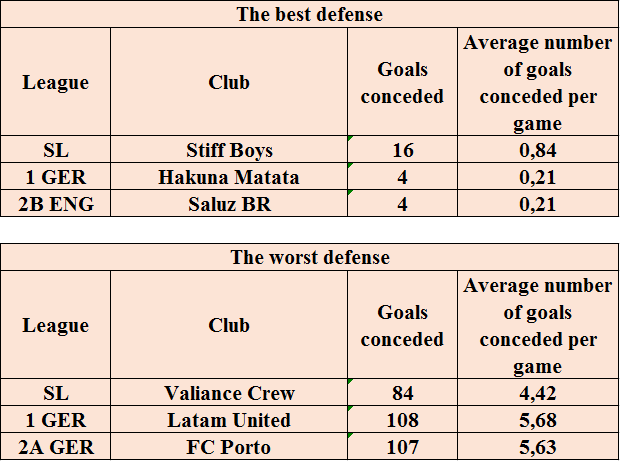 Thank you for your attention.
Author: Zidane
INTERVIEW WITH FELIPE 99  PART 1/2
Hello all virtual footballers. In today's holiday edition, I had the pleasure of interviewing the captain, the owner of the C N Marcílio Diasteam. I would like to introduce you to the player Felipe 99 and I invite you to read the interview.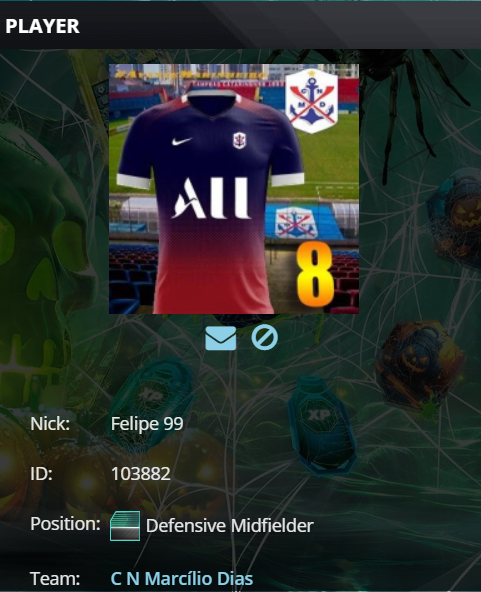 Tell us something about yourself. What's your name, what do you do, any hobbies?
Hello, my name is Felipe Silva, I am a Brazilian passionate about football and I grew up with a deep love for this wonderful sport. After all, I'm from the country of football, right? As a true Flamengo fan, I have Red and Black in my heart and I am an enthusiast of the rich history of my favorite club. In my spare time, I become an amateur player, taking on the emblematic number 10 shirt and the responsibility of the captain's belt in football with my friends.
Why do you have such a nickname and what made you start your adventure with FT?
My nickname is a creative combination of my name and the year I was born. What propelled me to embark on this exciting journey called (FTG) was my deep love for football. Since 2021, I have maintained an intense relationship full of ups and downs with FTG, because, as we know, not everything is a victory in this world.
What are your ambitions as a club? Stay in SuperLeague, win some Cups?
Our club's ambition is evident, we are determined to write a memorable story. And, for me, every narrative worth telling requires titles and achievements. Next season, CN MARCILIO DIAS will launch itself into the league competition, aiming to win the league and the national cup, in addition to envisioning the possibility of an extraordinary title in the European tournament (TE) – the famous triple crown. I believe this is the dream of all the players on the team. We are even looking for reinforcements; So if you fit this description and want to be part of this winning team, don't hesitate to contact me privately. The positions of Striker (AC), Central Defender (DC) and Central Defender (ZC) are the ones we are looking for to further strengthen our squad. Haha! Let's go in search of our dreams and victories!
You've been playing C N Marcílio Dias for a long time. How do you rate this club?  
I've been playing at the club since its founding on the American server and I've had the opportunity to play on the Brazilian server, where we've also built a history full of titles, forged lasting friendships and left an extraordinary legacy. This is a truly remarkable club, offering an exceptional environment in which to play. Furthermore, the directors are incredibly active and are always willing to help the players achieve exceptional performance throughout the season. I am proud to be part of this journey and look forward to many more successes with CN MARCILIO DIAS.
What would you change/add/remove in FT?
In relation to this issue, I would emphasize the importance of establishing a fairer balance between players who invest money in the game (P2W) and those who choose to play for free. The current imbalance in FTG favoring paying players may discourage many players over time. Therefore, it is essential to look for ways to make the game more accessible and enjoyable for everyone, regardless of their level of financial investment.
What advice would you give to a new player just starting out?
It is: "don't continue" – but, of course, don't take it seriously. Jokes aside, the real advice is: stay focused on your goal and use your resources wisely. This will help build a rewarding and successful gaming experience.
Thank you for reading the interview to the end. If you would like to ask someone a few questions on various topics, feel free to contact me.
Author: Lambadajew
FOOTBALLTEAM NEWS
Dear readers,
Hi there! I'm Andrew Norbertson would like to invite you to read his upcoming article in the next edition of Sports Journal. He will be covering the latest sports news and events that have happened in the last week. Additionally, all the figures he has provided in the article will be current as of 04.11.2023.
1/ Interesting rivalry in the Top of the Week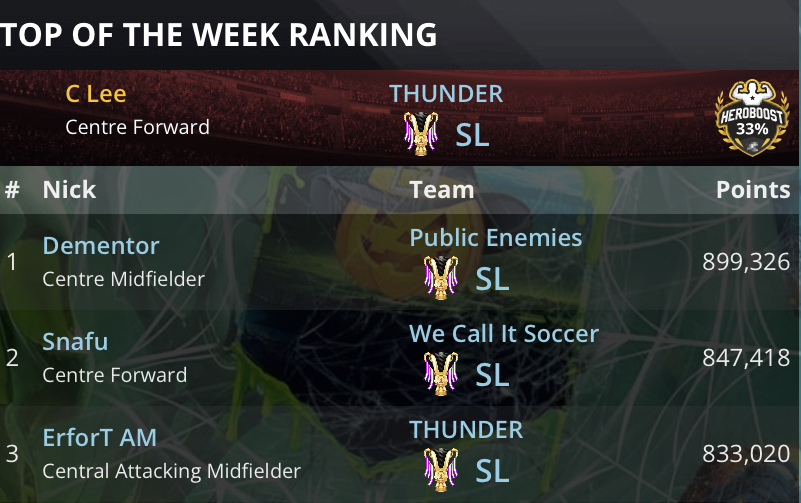 The monster event seems to be very well for hard training and the competition for the Top of the Week is in full swing. It's amazing to see that the EU server record of over 600,000 clickable workouts has already been broken as of Friday. As of now, the current podium is as follows:
1/ Dementor with 889k trainings
2/ Snafu with 847k training
3/ ErforT AM with 833k training.
It's worth noting that each article we publish is released every Wednesday so the training numbers I've given can still change a lot. I'm confident that our leaderboard for the Top of the Week will be a compelling one, as there's still a lot that can happen before the end of the week.


2/ Will the two best teams in the Italian league play in the Super League?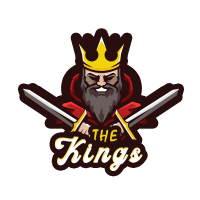 The Kings team have been performing exceptionally well this season, and it's evident that they are playing their best season in the history of the club. Their rivalry with Bella Ciao and Łosie w Kosmosie teams is a testament to the high level of first leagues they are playing in. The team's success can be attributed to their top-notch training and progression, which have resulted in excellent results, a high position in the overall standings, and probable promotion to the Super League. Additionally, individual player development has been a key factor in the team's success. The players who have stood out in my opinion are Cyrko, krulikos, and Kubanejro who have made significant progress in their development and contributed to the club's impressive performance.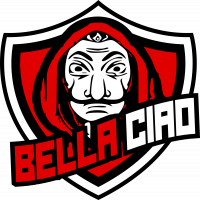 Bella Ciao experienced the disappointment of The Kings defeat in the Domestic Cup, but they are currently leading the Italian league. The team is one of the most successful in the first division and has an impressive trophy collection. They are determined to add another trophy for the league championship, but they may also compete for other trophies, including the European Tournament, where they are performing well in the play-off phase. It's worth noting that Kolmapuszi, Galu, and Yamcha BC have made significant progress in their training over the past week and deserve recognition.
3/ Current top 5
Let's take a look at this week's top 5! There have been a few changes since last week, so it will be interesting to see who made the cut.
Top 5 players
1/ C Lee 3628 ovr
2/ Patrickkk 3400 ovr
3/ Snafu 3181 ovr
4/ Łysy Pereira 3125 ovr
5/ Reginald 3094 ovr
The top 5 teams
1/ We Call It Soccer 2391 ovr 
2/ Stiff Boys 2313 ovr
3/ THUNDER 2153 ovr
4/ Public Enemies 1957 ovr
5/ The Kings 1420 ovr
4/ Change of achievments awards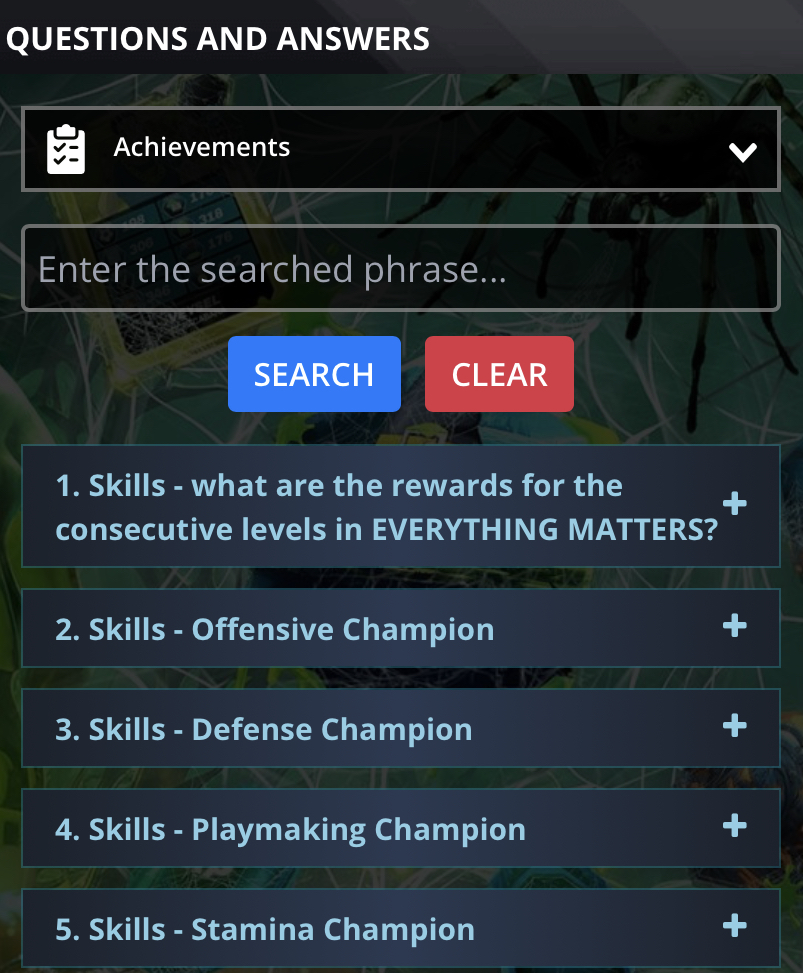 It is important to note that changes to the task awards have been announced for some time, and they have already taken place. However, the final change is expected to happen in December of this year. The reward system has undergone significant changes, and players can now find many different types of drinks such as Hero Drinks, Historical Drinks, Rocket Fuel Drinks, and Provident Drinks. Having said that, it is also worth noting that a large number of players are disappointed because the number of energetic packs as a reward in quests has been severely limited. These changes have caused a lot of frustration among players, and it is should for the game developers to address these concerns.
In addition to leveling up or improving player skills, players can also earn rewards by completing various types of training. These rewards include energy, euros, different types of packs, crystals, and temporary items. 
Players can also receive rewards for club achievements such as different types of packets, success balls, golden balls, or random material fragments. Temporary items are also available as rewards. 
Players can earn rewards by completing various tasks such as playing a certain number of minutes on the pitch or achieving individual statistics for a season or an entire career. The "Others" tab presents achievments such as trick duels or daily logins to the FootballTeam that also offer rewards.
If any players in the comments are interested, I can provide a more detailed description of the tasks. However, it would require a separate article to cover the topic adequately. For information on the rewards for each task, you can refer to this resource: here.
5/ Trade 3 for 1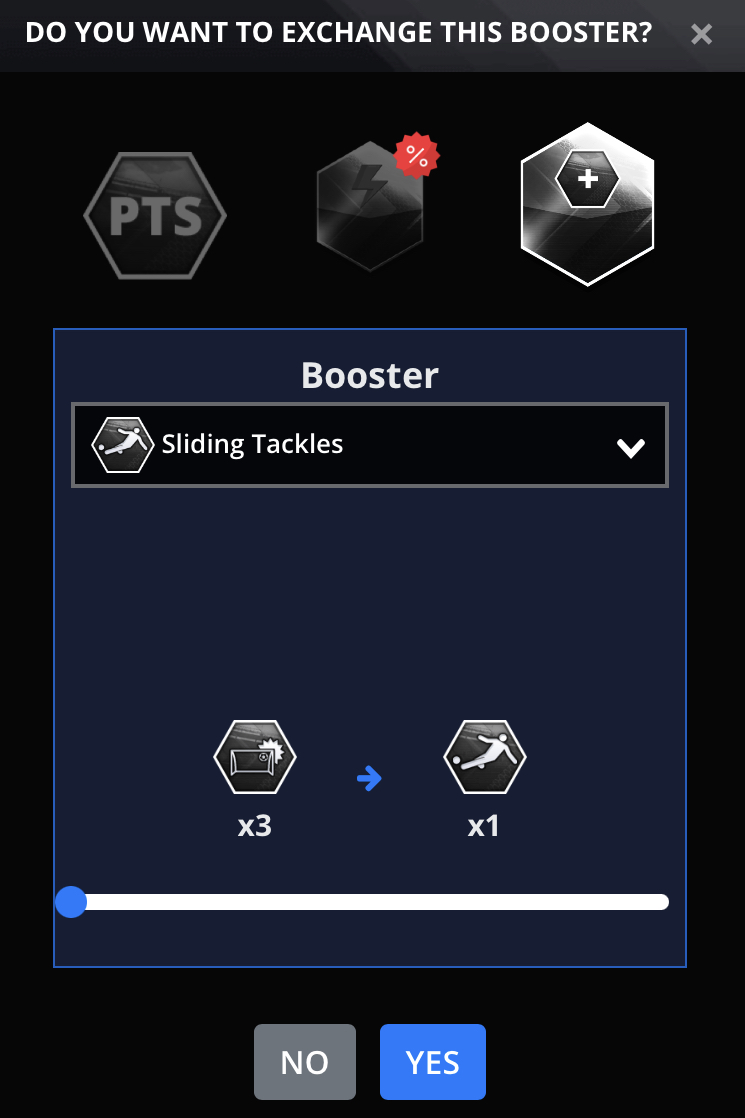 The administration has introduced a new alternative to boosters which allows users to exchange three boosters for one booster of their choice. This move was made to increase the price of boosters in the market, and it has been effective in achieving that goal.
6/ Swap collections get overall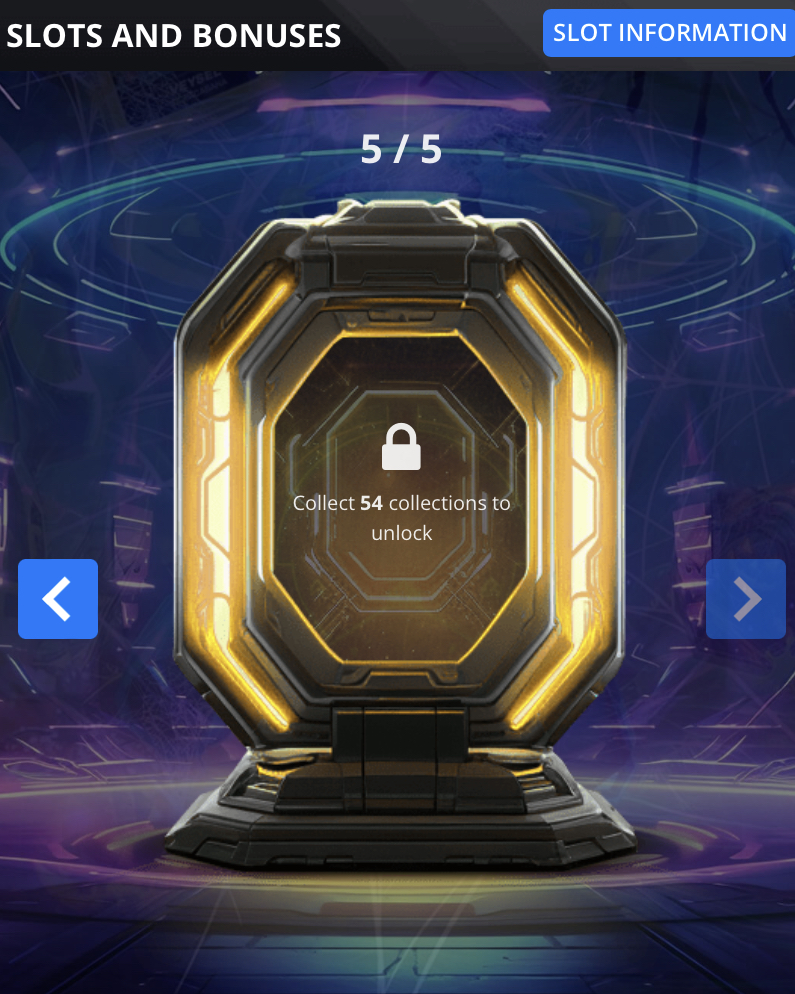 The FootballTeam card section has introduced two new options that will allow us to level up our cards. Upgrading cards and unlocking Slots are the two options available. Slots are an easier option where we can exchange a collection of cards and a certain number of them to add a card in place of a slot. This move will raise the level of our player. It's important to note that there are currently 5 slots available, and we can unlock them all by exchanging all available card collections.

Author: Andrew Norbertson
SENYA SHELOVE: A PORTRAIT OF A PROMISING YOUNG TALENT
Senya Shelove was born in the picturesque city of Gomel, Belarus, where the love for soccer ran through the veins of the inhabitants. From his early childhood, Senya was drawn to the ball and the excitement that the sport generated in his neighborhood. He was the kid who always carried his ball everywhere, and his passion was undeniable. Gomel, with its soccer-loving people, was the perfect place for this young footballer to start dreaming big.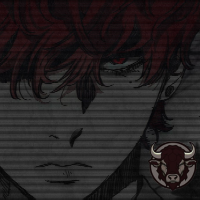 Senya Shelove's neighborhood also played an essential role in his growth as a footballer. Street matches were a tradition, and every day he would gather with his friends and neighbors to play thrilling games. These experiences not only solidified his love for the game but also forged friendships that would last a lifetime. The bonds he established with his neighborhood friends were as strong as the knots of a soccer net, and together they shared stories and supported their sports dreams.
At the age of just 16, Senya Shelove had already realized his childhood dream by joining a major first-division club, Go Complain a Russian team that played in the English Premier League. He made his debut for this team at a very young age, and it's where he rose to international prominence, not only due to his age but also his prowess on the field. He spent a significant portion of his short career with this club, winning everything, national league titles and cups, scoring numerous goals, providing assists, and displaying the enthusiasm of a player far beyond his years.
His time there would be short-lived because the giants of the soccer world had set their sights on him. At the age of 19, he would likely sign his first major contract. BAVOVNA, a team in the Super League, secured the services of this wonderful forward. Although he hadn't yet secured a place in the starting eleven, his dedication and passion for the game had made him a valuable player. Every day, he trained tirelessly, honing his skills and seeking opportunities to prove his worth on the field.
One of the qualities that made Senya stand out as a player was his versatility. Despite being a center forward, he could also play a crucial role in defense. His ability to press opponents and win back the ball made him a valuable resource when his team needed to tighten their ranks. But when it came time to attack, Senya transformed into a goal predator. His aggressiveness and commitment were remarkable; he fought for every ball as if it were the last and didn't stop until the ball crossed the goal line.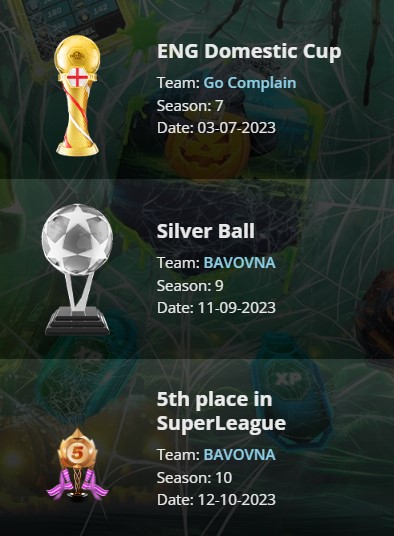 Senya Shelove was known in Gomel as a kind and sociable person. He was always ready to help his neighbors and friends, and he never let fame affect his humility. His community admired him not only for his talent on the field but also for his exemplary character off it. He understood that soccer was not just about goals but also about being a role model and a source of inspiration for the young people in his city. Even as a star, he strolled through the streets of his city during all his vacations, as if he were just another neighbor.
Despite his amiable personality, Senya understood that soccer was a competitive game, and he had to give his all on the field to achieve his goals. He was always willing to step up when the team needed a leader and provided that extra touch of aggressiveness that drove his team to victory.
One day, after an exciting league match, Thierry Henry, the legendary forward turned sports commentator, approached Senya for an interview. Henry had been impressed by the play of the young Belarusian talent and wanted to learn more about him. During the interview, Henry asked him who his idol was, and with total humility, Senya told him that, apart from Henry himself, one of the players he had always admired was Luis Suárez. Thierry didn't hesitate and promised the young forward that he would arrange a meeting with 'The Pistolero' so that he could have a conversation with one of his childhood idols.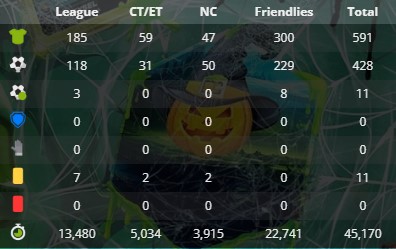 The news of Henry's promise thrilled Senya and became an additional source of motivation to continue working toward his dream of becoming an undisputed starter for BAVOVNA and achieving glory in the Superleague. With the support of his community, his unwavering determination, and the promise of meeting his idol, Senya Shelove was determined to leave his mark on the world of soccer and achieve his most ambitious dreams.
Today, Senya continues to score goals in the Superleague, and his story continues to grow over time. At such a young age, it's almost certain that we are witnessing one of the greatest soccer prospects, and he will continue on his path to win it all.
Author: Lucas Ferrari
INTERVIEW WITH BAN VOYAGE
I would like to welcome you on this beautiful Wednesday afternoon from the FootballTeam News studio. Today is the historical moment that the "lion's share" of the FT community has been waiting for - an interview with the person who creates our beloved game, in which we spend many hours a day, namely - Ban Voyage. I invite you to read it! 
Ban: Hey, first of all I would like to say hello to everyone. I am very pleased that my humble person has been invited for an interview. I like the Wednesday paper very much, and this one will be particularly fun to read.
Hi. Thank you for taking the time to do this interview. Let's move, then, to the first question. After the recent merge of the EU and US servers, some users suggest that a merge between PL and RU servers would be useful, too. How do you feel about this?
Ban: At the moment we are not planning to merge the PL and Russian servers. There is a chance that in the future we will make it possible for players to move between these servers (along with the whole club) but this idea is only in the consideration phase. 
What is the situation with the development of the app? When is the expected date for completion and release? What benefits will it bring to us, users?
Ban: App development is a priority for us. We are focusing a fair amount of resources on it. We are planning the release for the second half of the next year. We may be able to surprise you and it will come out before the planned date. We are constantly expanding our development teams and recruiting new, ambitious people. The application will give us many opportunities, such as the implementation of better quality animations, improved performance of the game, and access to millions of PlayStore and AppStore users, who are now difficult for us to reach. 
A while ago, you wrote in the news that work was underway on a new match engine. What stage are you at?
Ban: As I've mentioned several times before, work on improving the game engine is done on an ongoing basis. It is a continuous upgrade and improvement of the game code. Recently, some of the players have noticed that the matches are running smoother and this is precisely the result of more tweaks and continuous improvement of the game code.
One of the biggest club changes - Expansion II. What is the expected timeline for completion and implementation into the game? Can you tell us about some of the buildings and how they work? 
Ban: The most interesting building we are all looking forward to is the academy. This is a building whose development will allow us to unlock club skills. There are about 40 club abilities and they will have an impact on the entire gameplay, starting with expanding our club, gaining resources, boosts and special skills to increase playability for the whole team. Part of the work has already been done. In preparation for the production of this module, we had to build a new bonus system, which we are currently using like drinks, for example. We are currently in the process of making improvements to the card module, and we also want to release the card game in December at the latest. Work is being done on the expansion and after the card module we will mainly focus on that. 
Will there be an option to go with the team to training camps?
Ban: In the Bieszczady? (hehe) We are not currently working on training camps
Why did you decide to bet on soundtracking the game and adding voice commentary first, and then on additions such as expansion 2, which the vast majority of players are waiting for?
Ban: Great question. I'm looking forward to explaining it once again. The work on sounds, the creation of cards, or the addition of new match commentaries are unrelated to club expansion work or other development work. They have no bearing on when the next update will be added. Sound production is handled by musicians, actors, voice-over artists and sound engineers. Development teams work on the game code and building new modules. These are completely unrelated departments. The question could just as well be this: Why did you create a video commercial with Kamil Grosicki, but not build in-game building updates?
Will it be possible to switch off notifications that inform us about prizes received by other users? Unfortunately this sometimes interferes with enjoyable gameplay (especially on older devices) 
Ban: We improved this module a few days ago and we hope that this form of notifications will satisfy most players. 
Do you plan to make a "clearing" of the Polish server and create a new one with rewards for the level achieved on the previous server?
Ban: At the moment we are not planning to do this. 
After the introduction of a 'penalty' for the SL winning team, consisting of less health regeneration in the next season, we could hear voices of dissatisfaction from some users. Do you plan to stay with this idea or remove it completely?
Ban: The normal issue is that a club that puts in more effort to get to the top will be more tired. The loss of health in a game can represent just such an effort. It is important to remember that it is only a game ... and this effort must be represented in some way. Therefore, this should not be seen as a punishment, but just part of the game.
In the last update, you decided to change the rewards for tasks and to expand their scope. However, many people feel that the rewards (for most tasks) are too weak for the current stage of the game and expect them to be changed. Would this be possible?
Ban: The tasks will be updated. In the coming weeks, players can expect quite a few changes to the quests (including the ones we have currently modified), big changes to the rewards for card collection and a revolution in items and their value.
The cost of 'crafting' better drinks, like Provident V is very high. Voices are heard from all sides proposing to lower the requirements. Could users hope for such a change? 
Ban: Provident V is a TOP drink. That is why it has such a high cost. When we created it, we did not think in terms of everyone using it every day. Just like all other TOP lvl drinks. 
Ban: I would like to take this opportunity to thank on behalf of the FootballTeam all the players who are with us. We are delighted that the gaming community is so involved in the development of the product. We will work hard to further develop the game and will do our best to make footballteam fun and meet the expectations of the community. 
With footballteam greetings 
Ban Voyage
DOMESTIC CUPS SEMI - FINALS
Good afternoon, dear readers of the magazine, I welcome you to the new issue of the magazine. The next, eleventh season is coming to its logical conclusion. . At the time of writing this article, the first semi-final matches of DOMESTIC CUPS had already been played, and the finalists were already known in the Cups of England and Spain. In the article we will look at the semi-finalists of the cup and make a forecast for the final. Sit back and enjoy reading the magazine for you.
We start with those countries where both matches and well-known finalists have already been held. In the English Cup, the first pair of semi-finalists consisted of Romper FC and RedBull Fighters. Both clubs are strong and worthy of the final. The club Romper FC is in fifth place and still has every chance to fight for bronze in the league, and the club RedBull Fighters are in seventh place and have lost almost all chances to rise higher in the standings. The first match ended with a score of 3:1 in favor of Romper FC in their second match, the game was also equal, but a little more goals were scored than in the first, the match ended with a score of 2:3 in favor of Romper FC with a total score of 6:3, Romper FC went to the final.
The second pair of semifinalists consists of 7more7 and Go Complain. The two leaders of the first league meet in the semifinals of the cup, in reality this is a two-legged final. The club 7more7 is the leader of the first league, with a fairly large margin of six points from the second place. Their rivals club Go Complain are second in the league and are ready to do anything to take some kind of title this season. Equal clubs who are ready to do anything for the sake of victory. The first match ended with an almost sensational 2-0 in favor of Go Complain, a rather unusual result depending on who played against them. In the second match, the score was the same 2:0 in favor of Go Complain and the final with a score of 4:0 sensationally passed Go Complain.
My small forecast for the final match Romper FC against Go Complain. Both clubs are almost equal and they will give their best. Although Go Complain look much stronger than their opponent, I will still give my preference to the Romper FC club. In my humble opinion, they can surprise us in this final.
Let's move on to the Spanish Cup. Here Mazovia Mady and LaFamilia II meet in the first pair of semi finalists. Club Mazovia Mady are in sixth place in the league and their rival club LaFamilia II are in second place. In this pair, the club LaFamilia II stands out a little, but Mazovia Mady should not be discounted, they showed it in both matches. There were a lot of goals scored in the first semi-final match and LaFamilia II won 2-5. In the second semi-final match there was a battle and a lot of goals scored, the match ended with a score of 4:3 Mazovia Mady won. And with a total score of 6:8, LaFamilia II went to the final.
In the second semifinal match, WINGSPAN and Polish DF met. Club WINGSPAN occupy the third place in the first league, and their rival club Polish DF are the leaders of this league who have not lost points this season. In this pair, the clear leader is the Polish DF club, but WINGSPAN could show their teeth and fight the leader in this semi-final. But this did not happen and the club WINGSPAN gave up even before entering the field and frankly merged the semifinal matches losing 7:0 and 4:0. With a total score of 11:0, Polish DF went to the final.
Forecast for the final where LaFamilia II and Polish DF will meet. Both clubs are doing their best, but I think this will not prevent the favorite from taking the cup.
This concludes our article, I hope you liked it. And as always, I wish every player and club good luck in future matches.
Author: Dodo
BLACK MARKET
The 'Black Market' is an unexplored and hidden part of FTG that, although shrouded in mystery, also poses significant risks for those who choose to venture into it.
Within the "Black Market" there are several prominent items, after the server merger, it took a complete turn: where illegal transactions are carried out such as the sale of player accounts, credits and a wide range of valuable items for progression of the game.
Is it worth the risk, what was the purpose of this black market?
In this article we will talk about what attracts the gaming community to delve into the darkness of the black market, their opinions on the matter.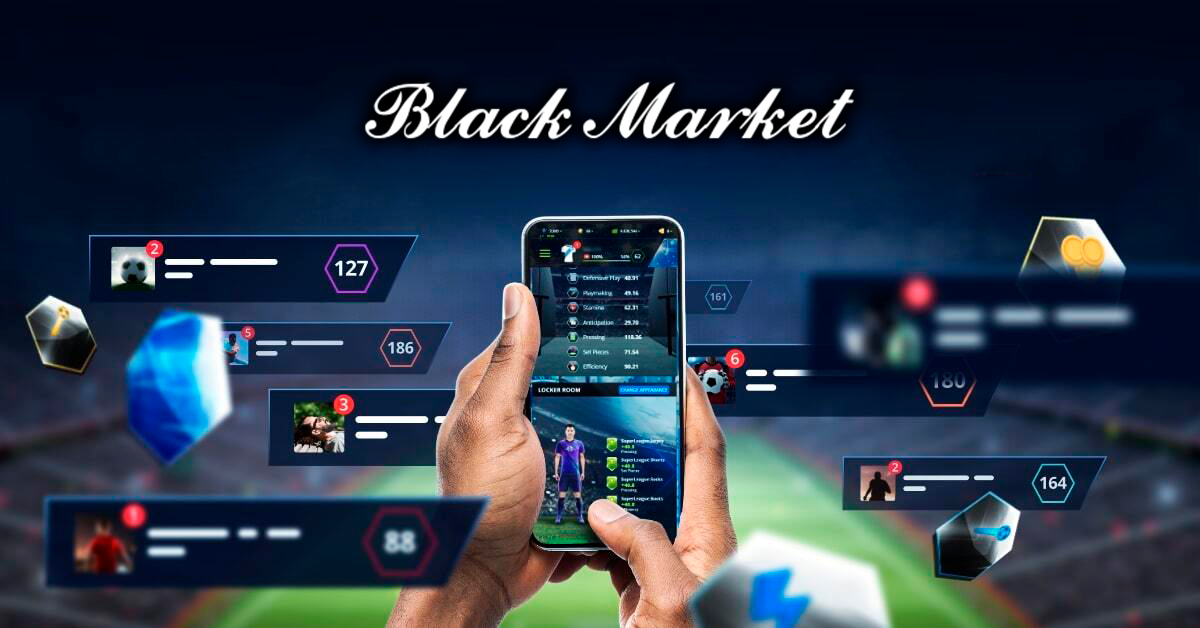 Illegal markets are very active after the merger and offer unfair advantages and valuable game elements, according to the most skilled players, those who have invested and today trade in these underground spaces, to recover their assets.
Purchasing these accounts may seem tempting for players looking to quickly upgrade their team or take a bigger step on the server and stand out with a player who already has trained skills and is highly respected, but engaging in these types of illegal transactions presents risks significant. 
Here we have the case of two very well-known players in the American community,
FavellaSSJ and Vizmark according to rumors they have said goodbye to the game after selling their accounts for an unknown amount.
And the result is..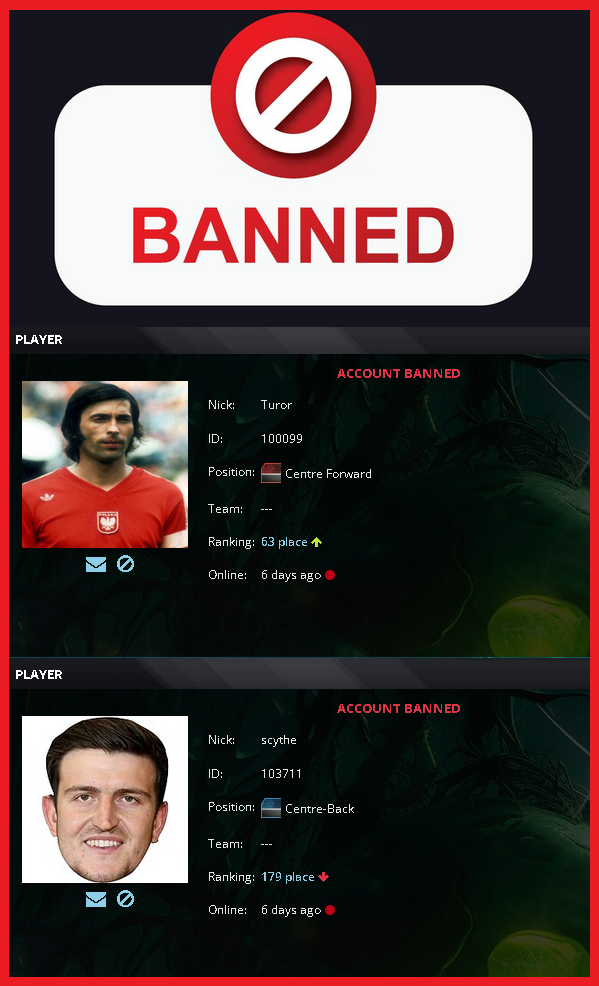 This journalist spoke with one of these players, who agrees in exchange for not revealing his identity.
Khieven 22: Hello, Mister X. Why did you recently decide to sell your football account?
Mr "X": Primarily, I left due to a sense of demotivation. The game administration made decisions that didn't align with my views, affecting my interest in the game.
Khieven 22: Were you able to consider other options before selling your account?
Mr "X": I considered several options, but selling the account seemed like the best way to close that chapter of the game. I'm sorry for the outcome for the buyer, but I knew the risks of this transaction.
Khieven 22: What would have changed this decision?,  since we are talking with a great character in the last 10 seasons, is it your moment, what would you like to say?
Mr "X": Better communication and consideration of community feedback could have helped. This could have prevented my demotivation from reaching that point.
Khieven 22: Hmm, I see. Do you have plans to get involved in other games or similar projects in the future?
Mr "X": Right now, I'm taking a break and exploring other avenues. I don't rule out the possibility of a new project in the future, but nothing concrete at the moment.
Khieven 22: Thank you for sharing your experience, Mr. X! I wish you the best in your future endeavors.
Mr "X": Thank you, Khieven. It has been a pleasure to close this stage with these questions. Thanks to the US community, for the last few seasons, they have been very entertaining and I brought several friends with me.
In addition to player accounts, credits and items are for sale. 
This activity not only violates the terms and conditions of the game, but also exposes players to sanctions, such as account suspension for several days. 
It is essential to understand that participating in the purchase of player accounts, illegal credits and other items on this black market carries significant risks and loss of reputation within the community.
To protect the integrity of the game and the safety of players, it is essential to be wary of any offer that seems too good to be true. The fun is in personal progress and today they offer us extensive events with a lot of variety for those who are just starting out and those who continue looking to grow in FTG.
This is all for now, thanks for reading us, I hope you liked it, with a positive vote for more content of this type.
Take care warriors, don't forget they are watching you!
¡See you soon!
Author: Khieven 22
ERFORT: OVERCOMING LIMITS AND DEFINING THE PATH TO SUCCESS
Good morning my dears! All right with you? He's the one you're talking to here, your favorite journalist, I don't know if I am, but it could be since most of them are really weak, how are they at the event? Training a lot? Because there's a crazy person who trained a lot, a lot! And that's what I came to talk about today, because it's truly incredible and inspiring to witness ErforT's remarkable achievement in a single game week. With an impressive 1,346,226 training points, he not only exceeded all expectations, but also left most other players behind, many of whom barely managed to reach 700,000 points, (which is not the case with his little friend Dementor, he warmed up 1st place for him all week, losing only on Sunday, with an impressive 1,327,536 training points!) What makes this achievement even more exceptional is ErforT's unwavering dedication and tireless determination to face challenges and excel.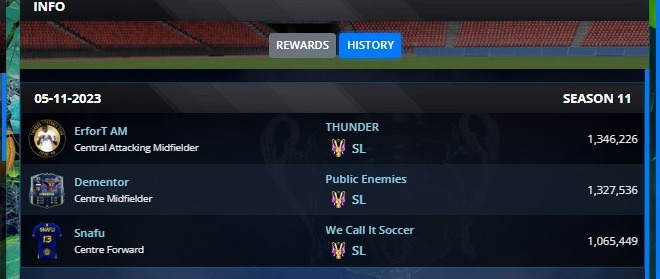 The key word here is "overcome." ErforT did not settle for mediocrity, instead he threw himself into the pursuit of performance levels far above average. His journey is a true testament to how perseverance and commitment can result in extraordinary achievements. He proved that, with focus and effort, it is possible to transcend one's limitations and achieve success, no matter how difficult the path.
In addition to his impressive achievement, it is important to highlight that ErforT's achievement could have a significant impact on the overall SuperLiga standings. His remarkable performance is not only a reflection of his personal commitment, but could also be a decisive factor for 1st place in the SuperLiga.
In a competition as fierce as the SuperLiga, where the best players in the world face each other, every point and every victory is crucial. ErforT, by demonstrating its exceptional performance and overcoming, is putting its team in a favorable position to reach first place in the standings. His contribution is not just a matter of statistics, but also of leadership and inspiration for his team.
The SuperLiga is a showcase for the best players from around the world, and the path to victory in the competition is paved with formidable challenges. ErforT's ability to overcome these challenges is a testament to the competitive spirit that drives the sport. His achievement could become a milestone in the season and could be the difference between victory and defeat in such a competitive competition.
In addition to his exceptional skill, ErforT is also demonstrating the importance of teamwork and the ability to motivate his teammates. His dedication and commitment are contagious, and he is inspiring his teammates to do their best in their quest for first place in the SuperLiga.
In this context, ErforT's journey takes on an even greater dimension. It is not only a personal quest for greatness, but also a valuable contribution to the success of your team. His tireless effort could determine his team's position at the top of the SuperLiga standings, which would be a remarkable achievement and a testament to the importance of overcoming in top-level sport.
ErforT's story reminds us that, in sports, individual achievements can be translated into collective triumphs. His example of overcoming and dedication is a beacon for everyone involved in the SuperLiga, showing that perseverance and determination can lead not only to personal success, but also to team victory.
As the competition continues, all eyes are on ErforT and his team, waiting to see whether their unwavering dedication can take them to first place in the SuperLiga. Regardless of the end result, his journey is a reminder that resilience is a powerful force that can shape the destiny of sport and competition. That's it my friends, I'll stay here, until next time and a hug from your dear journalist!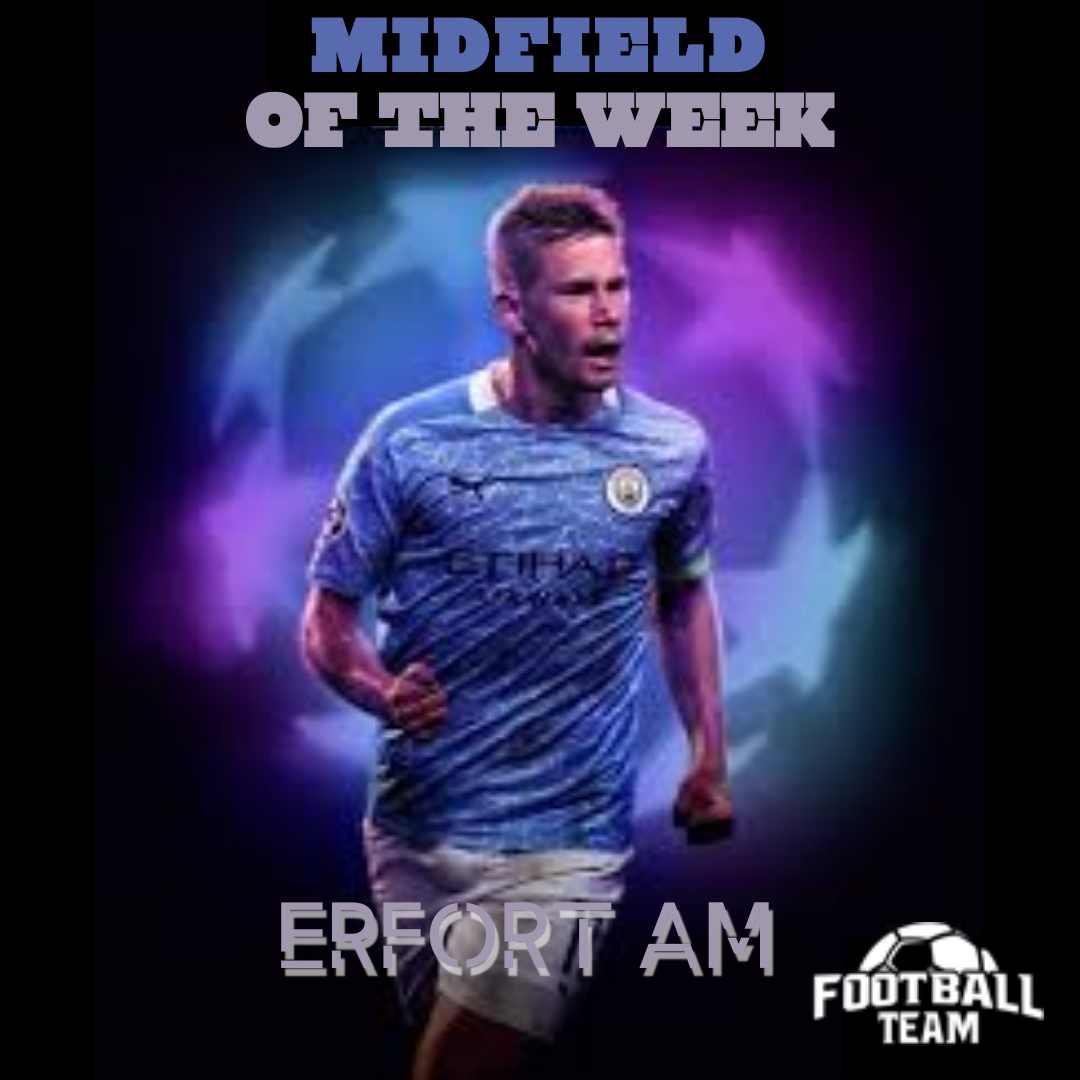 Author: Henrick
PACKS IN CARD COLLECTIONS
Hello, this is Matushevsky!
Last week I presented the occurrence of crystals in card collections, and although I promised that there would be items next week, I decided to analyze the packages in card collections today. I will present the items next week along with the prizes - I will call them - premium.
Today's article will consist of 3 parts:
1/ Collections containing an element necessary to open packages - keys
2/ Collections containing packages containing items
3/ Collections containing packages containing everything else except items.
Collections containing Free Keys: 
1/ TEAM TSUBASA - 120 Fame Points - 20x Free Key (6 Fame Points per 1 Free Key)
2/ JADOWITE WĘŻE - 120 Fame Points - 25x Free Key (4,8 Fame Points per 1 Free Key)
3/ ŁOSIE W KOSMOSIE - 150 Fame Points - 30x Free Key (5 Fame Points per 1 Free Key)
4/ THE KILLERS - 660 Fame Points - 85x Free Key (7,75 Fame Points per 1 Free Kay)
Therefore, we can see that the JADOWITE WĘŻE collection is the best and THE KILLERS is the least favorable, but the differences are small and when you lack keys it is worth reaching for these collections.
Collections containing Packs (Items): 
1/ U&C OFFENSIVE MIDFIELDERS - 780 Fame Points - 5x Platinum Pack
2/ U&C CENTER DEFENDERS - 780 Fame Points - 5x Platinum Pack, 50x Gold Pack
3/ U&C LEFT DEFENDERS - 780 Fame Points - 5x Platinum Pack, 100x Bronze Pack
4/ U&C RIGHT DEFENDERS - 780 Fame Points - 5x Platinum Pack
5/ U&C GOALKEEPERS - 780 Fame Points - 5x Platinum Pack, 75x Silver Pack
Here, depending on our needs, we can open packages or exchange them for free keys. The U&C CENTER DEFENDERS collection will give us up to 120 free keys at the event.
Collections containing Packs (Premium): 
1/ PLYMOUTH ARGYLE - 380 Fame Points - 2x Unboxer Pack
2/ U&C DEFENSIVE MIDFIELDERS - 780 Fame Points - 3x Enchanter Pack, 2x Champion Pack
3/ U&C CENTER MIDFIELDERS - 780 Fame Points - 3x Crafter Pack, 2x Champion Pack
4/ U&C LEFT MIDFIELDERS - 780 Fame Points - 3x Unboxer Pack, 2x Champion Pack
5/ U&C RIGHT FORWARDS - 780 Fame Points - 3x Augmentation Pack, 2x Champion Pack
6/ TEAMS WITH AN ANIMAL IN THEIR NAME - 1250 Fame Points - 5x Enchanter Pack, 5x Crafter Pack
7/ GOLDEN ARMY - 1080 Fame Points - 4x Augmentation Pack, 4x Unboxer Pack
8/ THE LEGENDS OW - 5380 Fame Points - 5x Augmentation Pack
9/ TEAM SPIRIT - 1350 Fame Points - 5x Enchanter Pack
Replacing all the collections mentioned above will give us a total of 9x Unboxer Pack, 13x Enchanter Pack, 8x Crafter Pack, 12x Augmentation Pack. By removing the expensive THE LEGENDS OW collection we have 9x Unboxer Pack, 13 Enchanter Pack, 8x Crafter Pack, 7x Augmentation Pack, i.e. at a very low cost (7180 Fame Points) we can obtain a minimum of 270 Premium Keys, 26,000 Golden Balls, 160 Material Fragments and 14,000 energy . However, please remember that these are minimum values ​​and with even a small portion of luck, these numbers can be even twice as high.
Even though Master Packs contain items, they are included here because they can contain very valuable items. These items can be used both to create valuable drinks and to earn credits on the market.
In my opinion, the set of collections presented above (apart from THE LEGENDS OW) is a huge injection of resources every season, which allows you to play for a full 30 days without any investment..
And next week, the last portion of the summary of prizes in individual collections - items and HERO prizes.
Author: Matushevsky
LET'S TALK ABOUT TACTICS!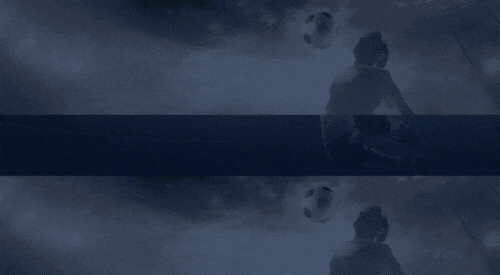 The Social Aspect and Its Complexities
In our previous edition, we delved into player training and underscored its significance in the context of a match.
This served as the starting point for a series of insights I wish to share regarding the "social" dimension of the game. It's crucial to grasp that in this game, consensus among your team members is vital if you want to achieve remarkable results.
Sincerity above all
Take a moment for introspection; place your hand over your heart and ask yourself if you are the right person to lead a team. Consider whether you are someone who can be easily influenced or managed (as others will certainly try to do so). Reflect on whether you possess the character and time to oversee the day-to-day life of the team, as constant attention is required to prevent the oversight of a game, a training session, or any crucial aspect. If you are the kind of person who approaches situations with patience, gets along well with people, has the time to nurture the team, and enjoys strategizing and planning for each game, then this role may be well-suited for you!
Managing a group of individuals is challenging; each member brings their own style and character to the table. It's essential to discern the extent to which each team member contributes positively or negatively to the group. I've personally refrained from collaborating with certain individuals who are known for disrupting team dynamics or thriving only in fair weather. Some individuals revel in criticizing and dissecting tactics and strategies, meticulously pointing out every mistake following a defeat. The issue here isn't the critique itself, but rather the timing. Such individuals tend to disappear during victories and remain uninvolved. They won't effusively praise the tactical or strategic approach that led to a win. In essence, it's wise to approach both praise and criticism with a grain of salt.
I emphasize that criticism isn't inherently negative. In fact, it can offer valuable insights that might otherwise go unnoticed. The key is to be astute and encourage team members to voice their opinions "prior to the game." They should share their thoughts on tactics, player selections, and strategy before the match unfolds. After all, it's easy to be an armchair quarterback in hindsight.
Exercise caution. Amid these criticisms, you might discover a remarkable assistant or someone better suited to the role than you. Knowing when to step aside is an act of wisdom. Furthermore, it's crucial that the entire team acknowledges its limitations. If an opposing team boasts an OVR (Overall Rating) that surpasses your team's by 50%, it's improbable that your tactics alone will challenge their dominance. If your team is ranked sixth in OVR in the league, winning the championship is a tall order; you might reach third place at best. Success would require a blend of exemplary behavior and a generous dose of luck. This game adheres to the principles of mathematics, and if you find yourself trailing the league's OVR leader, turning the tide may prove to be an uphill battle.
Too many cooks spoil the broth
Lastly, another piece of advice: "Too many cooks spoil the broth." What this means is that when too many opinions abound, achieving consensus becomes near impossible. It's unproductive to seek input on every decision, as it consumes valuable time. Instead, take charge and define the path for your team.
During your daily journey, you will identify those who offer the most valuable advice. Consider creating a separate chat exclusively for these individuals to fine-tune the team's direction. These individuals are your trusted allies, sharing a common vision that extends beyond mere results, whether positive or negative. Importantly, these individuals need not be friends; often, well-intentioned friends are reluctant to highlight your mistakes. In such cases, distance yourself from them, as a true friend may not help you win if they hesitate to point out your errors. Choose competent helpers and advisors wisely, as they are indispensable to your success.
In the event that someone on the team provides exceptional guidance but lacks the time to assist with tactics or managing the team, it's advisable to seek a capable assistant. Maintaining open and effective communication with your assistant is vital. Ensure that each individual knows their role and place within the team, and remember that continuous coordination and agreement are key to long-term success. 
At your Service
I have plenty more tips to share with you regarding the technical management of a virtual soccer team and the community of players within this thrilling game. If you still have any questions, feel free to reach out, leave your inquiries, opinions, or comments, so we can steer this section in the right direction, always with the aim of enriching our community and making it an even better place!
This marks my debut season on this server, and in the upcoming season, we plan to expand our team by bringing in experienced and formidable players who have been part of this server long before our arrival. If you're interested in joining us, don't hesitate to let me know. Additionally, if you're in the process of building a team from scratch and require some publicity or guidance, feel free to reach out, and I'll be more than happy to assist you in recruiting players or providing the advice you need. Thank you very much, and stay tuned for the next edition!
Author: THE JOKER
VOTE FOR YOUR FAVOURITE ARTICLE
This poll is already closed
Leave comment
Users must be logged in to comment.
7 Comments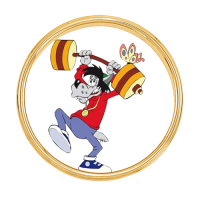 3 weeks ago
11-14-2023 20:13:57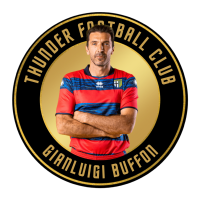 1 month ago
11-09-2023 07:38:54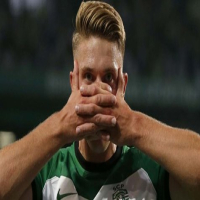 1 month ago
11-09-2023 04:41:05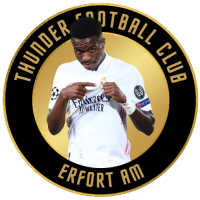 1 month ago
11-09-2023 00:27:21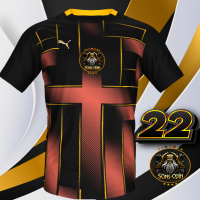 1 month ago
11-08-2023 14:37:12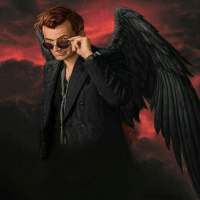 1 month ago
11-08-2023 14:04:42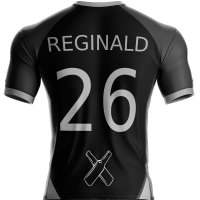 1 month ago
11-08-2023 13:50:36