SERVER MERGER
10-16-2023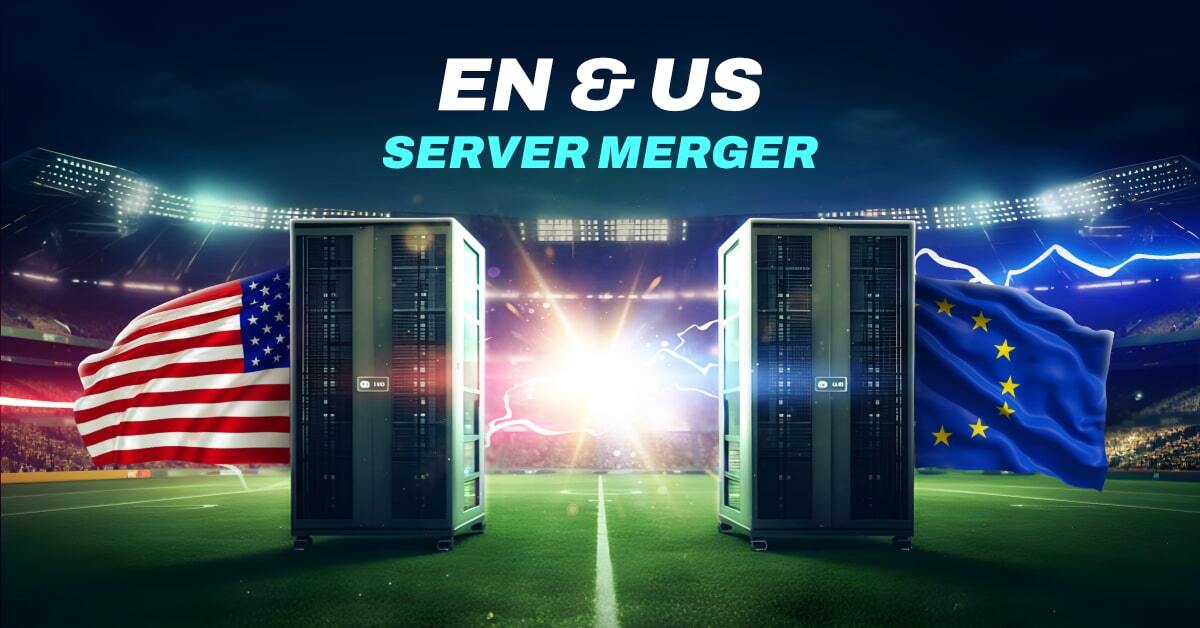 The merger is happening soon! 🔔

The merger will take place tomorrow (17/10) in the morning  - the process will take a few hours during which both servers will be unavailable to players 🛠️
As we've mentioned in the previous article about the US and EU server merging, we're now closing in on the opportunity of unifying a scattered community and building a strong, populous server instead of several smaller ones.
The plan is to ensure that the server merge and the transfer of players from US to the EN server is smooth and seamless, allowing players from both servers to become one united group. In order to do that and move the entire US server content, it is necessary to transfer and rebuild several gigabytes of data.
We'd like to remind everyone that all items, clubs and stats won't be affected, you will be able to continue your football career on the EN server where you left off on the US server.
All players that were using the same email for both, US and EN accounts should have updated them by now since it had to be done BEFORE the merger. If the email address on either account wasn't changed, US accounts will not be transferred and access to them will be permanently lost.
Here's another reminder with simplified answers to the most asked questions about the merger:
1️⃣ Can I still play on two accounts if I had one on US and EN?
      Yes, but interaction between them will be a violation of the T&C.
2️⃣ Will the leagues be re-drawn?
      Yes, there will be a complete re-draw of leagues on all levels, as a lot of new clubs will come into play.
3️⃣ What about the time zone difference?
      The EN server time zone UTC-1 will remain unchanged and will apply to all players.
Good luck to all players in the upcoming season, which is more than ever - looking to be the most competitive and full of excitement, and US players - see you on the other side!

Keep an eye out for new announcements and info! 🎃
All the best,
FootballTeam Crew ⚽
Leave comment
Users must be logged in to comment.
1 Comment
1 month ago
10-16-2023 09:05:54