What to train on a given position?
06-15-2021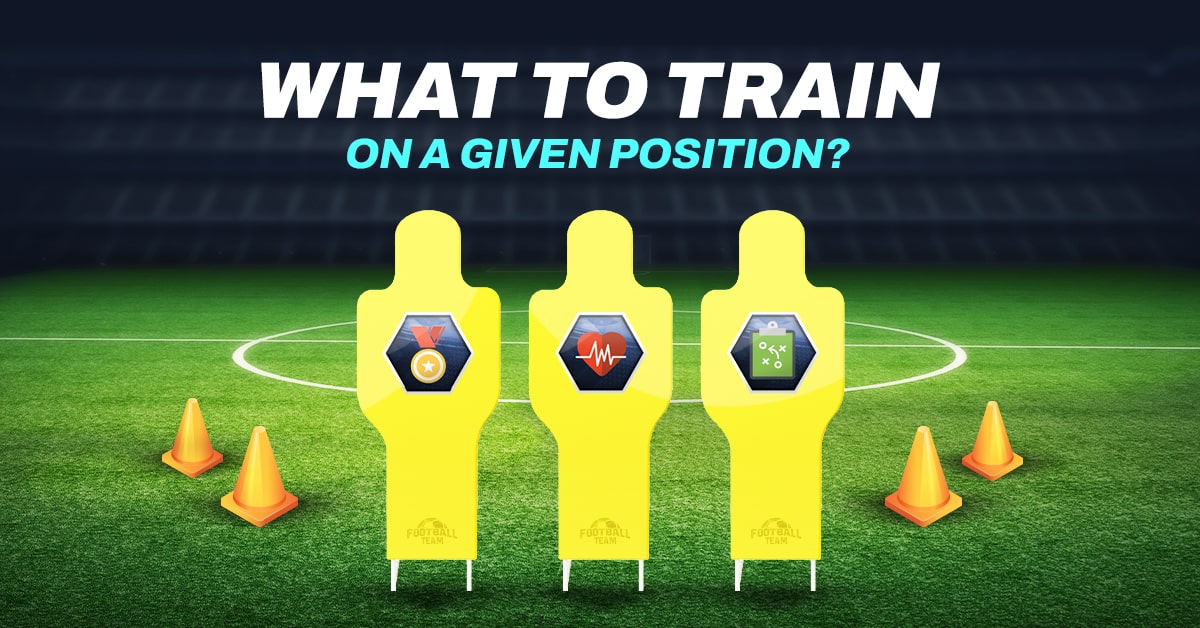 There's a saying that being good at everything is the same as being great at nothing. And it applies to football greatly -  it's impossible for a single player to have Neuer's goalkeeping instinct and Neymar's dribbling.
The keeper's job is to secure the goal rather than do magic with the ball, right? This philosophy is also reflected in FootballTeam, where your position hugely impacts your on-pitch duties. That's why the game features specific skills, which can be developed according to your desired goals.
What to Train on a Given Position?
In FootballTeam we have four basic positions known from real-life football - goalkeeper, defender, midfielder, and forward. They, however (except for the goalie), are divided into:
What Are the Skills at FootballTeam?
In FootballTeam, the player can develop the following skills:
Offensive play

- responsible for the player's attacking performance, i.e. the accuracy of shots, scoring goals,

Defensive play

- influences the player's ability to stop the opponent's attacks and the ball reception skills,

Playmaking

- the basic skill of midfielders, which determines the effectiveness of passing and receiving the ball in the midfield,

Stamina

- overall fitness of your player; affects how your character performs when the fatigue increases,

Anticipation

- the ability to predict the opponent's moves, the ball trajectory, especially important for goalkeepers,

Pressing

- a modifying skill whose value affects the opponent's performance. It can force mistakes, such as losing the ball or missing a shot,

Set pieces

- the ability to defend or attack during set pieces, i.e. corners, free kicks, and penalties,

Efficiency

- another modifying skill; its value determines the extent to which the player is vulnerable to pressing and making a mistake.
Which Skills Should I Choose?
In case you are wondering which skill to choose for a given position on the pitch, we have prepared an infographic to help you!
Regardless of your position, stamina will play a huge role. The weaker the stamina of a player, the faster he starts to lose his skills during the match, which affects his performance. None of us wants to lose an important match because we ran out of energy, right?
Of course, nothing prevents you from training offensive play as a side defender or pressing as a forward. Still, you have to bear in mind that your character will benefit more from the abilities listed on the infographic. They should also be considered when selecting items. Firstly, we recommend focusing on the main skills. When you have maxed them out,  you can proceed to the remaining talents.
How to Train in FootballTeam?
There are eight options in the tab, each of them is responsible for a different skill. Clicking the "Train" button sends our player to training.
As you progress, it will require more clicks and thus more effort to reach new skill levels. The training sessions are relatively short, which clearly favors active players. However, this doesn't mean that someone with less time to play can't climb to the top. It's always possible, but it may take a little longer. 
As you probably know, time is the main currency in any online game. Most premium currencies allow gamers to save a scrap of life that we would normally spend playing. For example, instead of waiting 24 hours for a key or six minutes for Energy, players can invest in credits and get around that.
Leave comment
Users must be logged in to comment.