EURO. All possibilities to get EURO.
12-05-2021
Euro is the base currency of FootballTeam. In the latest article, we'll present all the ways to get this essential factor for your account development.
Let's start with what you can use the Euro for:
- Training your player.
- Enchanting items.
We already know the purpose of Euro in FT. Now let's move on to equally important issues. 
How to get Euro?
- Work. By doing the selected job, players earn Euros. All you need for this is Energy and a little time.
- Betting. The rules are simple. You choose the right type of match (team win or draw), you bet a specific number of Euro, which is then multiplied by the odds.
- Club salary. When you join a club, you receive a salary every day after signing a contract. The club cannot offer you a lower wage than the minimum one, depending on your OVR (average of all skills). As the character develops, the minimum salary increases, so it is worth renegotiating the contract with the club after some time.
- Sponsor. Every few days, you receive an offer from a sponsor who wants to donate a certain amount of money. You can accept the offer or wait for a better one. The amount included in the sponsor's proposal depends on your progress in the game.
- Selling items. If you get an item you don't intend to use, you can sell it for Euro. This option is available in the Locker Room tab.
- Auctions. It's possible to buy a pack with different amounts of Euro.
- Trick duels. One of the rewards is Euro.
- Referral system. the Promote tab features a unique link that your friends can use to register in the game. One of the rewards for purchases made by friends in the Shop may be Euro.
- Tasks. By completing them, you can receive Euro. It is worth remembering about it because it goes hand in hand with the development of the player.
- Collections. For exchanging Collections, you can receive the main reward or other ones in, among others, Euro.
- Packs. Opening special Event Packs.
Want extra hints? Here you go! The Assistants will also help you to get even more Euro faster.
- More Euro: The Premium Assistant will give you as much as +20% more Euro for each job done.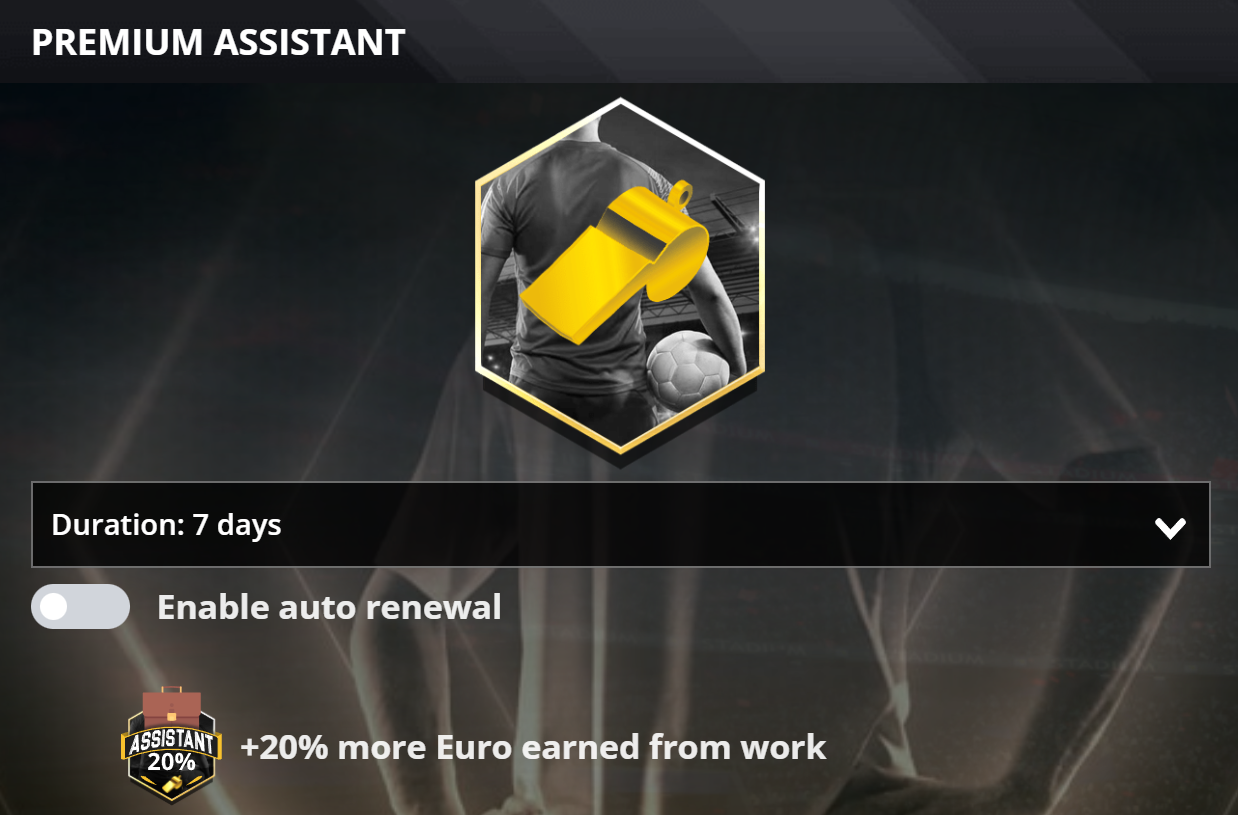 - Faster acquisition: The Job Assistant will cut the time of each job by 50%. Job Assistant will give you as much as +20% more Euro for each job done.
As you can see, there are many opportunities to get Euro in FootballTeam. Now it's time to use this knowledge in practice!
It's important to mention that there are two types of Euro in the new "CLUB" module, implemented in November/2022. These are:
1/ Building Euro
2/ Club Euro
Building Euro
This is the kind of Euro that can be used only for the construction of buildings. So it cannot be used for player contracts.
Players who deposit their own Euros to the club convert them into Building Euros. 
The club owner and assistant can convert Club Euros into Building Euro in the Warehouse.
Club Euro
This is the kind of Euro used to pay players their contracts. 
You can convert them to Building Euro at any time, but you can't do it the other way around. 
The Club Euro budget comes from match earnings.
Leave comment
Users must be logged in to comment.